KJR Staff Photo 1947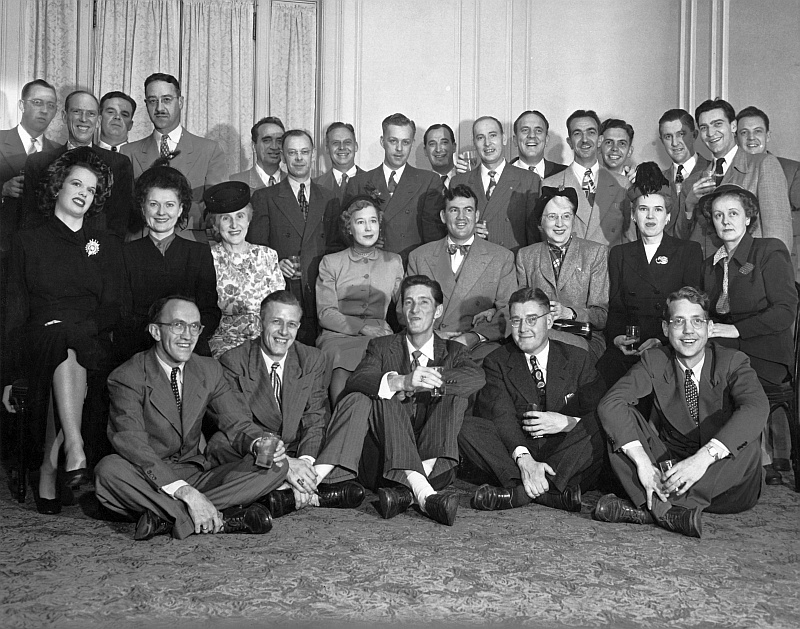 In 1947, the KJR staff numbered at least 29 persons, judging from the photo above taken at the company Christmas party. That year, Birt Fisher sold KJR to Marshall Field Enterprises for $700,000 and retired to his Ellensburg ranch. The new owner was Marshall Field III, whose holdings included KOIN AM/FM in Portland, WJJD in Chicago, and the Chicago Sun Times newspaper.
Front row: Bob Ackerley, 2nd from left. Newsman Tom McCann, center. All others, unknown.
Center row: All unknown.

Back row, left to right: Unknown; Don Anderson, salesman; unknown; unknown; unknown; Homer Pope, program manager; unknown; Paul Moore; Eddie Clifford; Charlie Brass (?); Bill Moser; Charles Herring; Bob Ferris, Len Beardsley; Maitland Jordan, promotions manager.

Can you help identify any of the other people in this image? If so, please write to john@theradiohistorian.org

---
www.theradiohistorian.org