www.theradiohistorian.org
Copyright 2011 - John F. Schneider & Associates, LLC
(Click on photos to enlarge)
---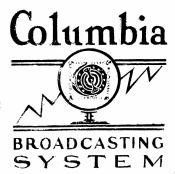 ---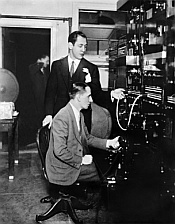 January, 1929: Columbia Broadcasting System President William S. Paley completes a circuit feeding the West Coast, turning CBS into a national network for the first time.
---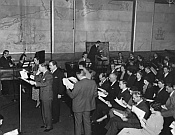 "The March of Time" was an innovative CBS program that dramatized and recreated the important news events of the week, sponsored by Time Magazine. Here, Harry Von Zell is shown announcing one of the programs from the CBS studios at 485 Madison Avenue in New York in the 1930s
---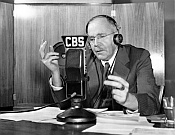 H.V. Kaltenborn was CBS's foremost news commentator in the thirties. His knowledge of foreign affairs gave him the ability to analyze and interpret the growing conflict in Europe for CBS audiences. He was fluent in German and French, which allowed him to translate Hitler's speeches for his audience in real time as they were being received via shortwave. During the Munich Crisis of 1938, he stayed in the CBS studios for 18 days, sleeping on a cot between his reports. In 1940, NBC hired him away from CBS, just as they had done with Lowell Thomas before him.
---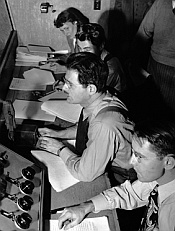 Norman Corwin, radio's "Poet Laureat", was CBS's star program producer. He wrote and directed some of radio's most memorable special programs, including "We Hold These Truths" (1941) and "On a Note of Triumph" (1945). In this photo, he directs his series "One World Flight", which described his 37,000 mile trip that took him to 17 countries in 1947
---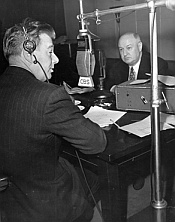 Arthur Godfrey was a morning disc jockey at CBS station WSJV in Washington in 1945 when he was tapped to cover the network broadcast of the Roosevelt funeral procession. His emotional firsthand account garnered national attention, and CBS soon awarded him his own morning network program. His unscripted program of interviews and music was a network radio staple until 1972. Here, Godfrey interviews Democratic National Committee Chairman and Postmaster General Jim Farley on his CBS radio show, about 1948.
---
In the 1920s, Arthur L. Judson was a well-known manager of musical artists. After a meeting with RCA chief David Sarnoff, he thought he had a verbal agreement to provide musical talent for the new National Broadcasting Company, but he soon discovered that Sarnoff had instead set up his own NBC artist's bureau. Furious over the humiliation of being out-maneuvered, Judson resolved to start his own radio network, to be called the United Independent Broadcasters. He lined up a few investors, rented studio space at WOR in New York, and signed up sixteen stations. The network would pay the stations for carrying its programs, plus the talent costs and the hefty AT&T network line charges. All expenses would be paid for by advertising. The Columbia Phonograph Company agreed to provide an infusion of cash, and it became the Columbia Phonograph Broadcasting System.

The network debuted on September 18, 1927 with a live orchestra broadcast. The first stations were:
WOR New York (originating station)

WEAN Providence

WNAC Boston

WFBL Syracuse

WMAK Buffalo-Lockport

WCAU Philadelphia

WJAS Pittsburgh

WADC Akron

WAIU Columbia

WKRC Cincinati

WGHP Detroit

WMAQ Chicago

KMOX St. Louis

WCAO Baltimore

KOIL Council Bluffs


WOWO Fort Wayne
After its inaugural broadcast, Columbia provided ten hours of programming per week to the stations - mostly serious music and opera. But the expenses were huge while advertisers were scarce, and so the new network was immediately in financial peril. After only a few weeks of operations, Columbia Phonograph pulled out and the paychecks for the network's twelve employees stopped.

Desperate for a solution, Judson offered to sell controlling interest in the network to Isaac and Leon Levy, owners of WCAU in Philadelphia. The Levys brought in additional investors, including Sam Paley, owner of the Congress Cigar Company. Then, after a difficult year of trying to run the business remotely, they offered to sell part of the network to Paley's 26-year-old son if he would run it. William S. Paley was intrigued by the offer. He had managed his father's cigar company radio advertisements on WCAU and the Columbia network and had been impressed with its impact on sales. And so, barely a year after the struggling network's first broadcast, Paley moved to New York and took charge.

Paley was a radio neophyte, but energetic and a quick learner. He shortened the name to the Columbia Broadcasting System, made crucial changes to the affiliate agreements, and signed dozens of new stations and important major advertisers, tripling the revenue in just a few months. He changed the programming emphasis from high-brow music to more mainstream tastes, signing the Paul Whiteman Band and a young singer named Bing Crosby. Vaudeville entertainers and comedians began appearing on the Columbia Network, including Jack Benny, Burns and Allen, and Fred Allen. Announcer Ted Husing was sent out to broadcast sporting events. In need of more cash, he sold 49% of the company to Paramount Pictures (later buying it back in 1932). He bought New York's WABC (now WCBS) and moved the studios out of WOR. And he signed a ten-year lease for five floors of studio and office space in a new building at 485 Madison Avenue, close to the major New York ad agencies. By 1931, at the bottom of the depression, Columbia had 400 employees, 79 affiliates and showed a net profit of $2.3 million.

One of Paley's dilemmas was that Columbia was not a national network – it only reached as far west as Omaha. To compete with NBC, which had been nationwide since 1927, Paley had to reach the West Coast, but the first AT&T broadcast lines across the Rockies, still being laid, were scarce and expensive. In January, 1929, Paley contracted with a new West Coast network, the American Broadcasting Company, operating out of KJR in Seattle. The networks agreed to exchange programs, bringing some Columbia programs to the West. But just a few months into the agreement, the ABC network suddenly went bankrupt when its owners were imprisoned for embezzlement!

Desperate for an alternative, Paley hopped a train to Los Angeles to meet Don Lee. Lee owned a chain of Cadillac automobile dealerships, and also KHJ in Los Angeles and KFRC in San Francisco, which he had connected as a regional network. Paley hoped to cut a quick deal with Lee to build a new Pacific Coast network using Lee's stations and some of the former ABC stations. But Don Lee was not someone would be rushed into a business deal. Before Lee would deal with Bill Paley the network executive, he wanted to take the measure of Bill Paley the man. He invited Paley for a cruise on Lee's sailing yacht "The Invader", where he frustratingly refused to conduct business and limited conversation to social chatter. "The rule here is that no one discusses business on this boat," he said. Finally, after two leisurely cruises off the coast that ate up a precious week, Lee agreed to sign an affiliate agreement which Paley was to dictate without any negotiation whatsoever. Lee signed it on July 16, 1929, and the Columbia-Don Lee Network was born.

The 1930s and 40s were golden years of the Columbia Network, now simply called CBS. Paley hired Frank Stanton as a research assistant in 1935, and he rose to become a top executive, almost equal Paley himself in stature and influence. That same year, CBS became a public company on the New York Stock Exchange. Sensing the importance of news reporting for network radio, they hired newspapermen Edward Klauber and Paul White to assemble a crack news team. It proved to be one of CBS's strongest strengths. As war loomed in Europe, the voices of H.V. Kaltenborn, Edward R. Murrow, William L. Shirer, Eric Sevareid, Robert Trout and many others were heard daily in America's living rooms.

These were also the years that CBS acquired many of its flagship O&O stations, including KMOX, WBBM, KNX and KCBS. And, the company bought the remnants of the old Columbia Phonograph Company, which became CBS Records. CBS was a pioneer in international shortwave broadcasting, FM and early television. By 1950, there were 3,000 employees and annual sales of $100 million. When the television age dawned, its TV network and stations catapulted it into the giant multi-media corporation that it is today. But CBS's roots and heritage have always been in radio, and so we pay homage to William S. Paley, his associates and successors for the impressive contributions they've made to the radio industry.

Copyright John F. Schneider, 2016. All Rights Reserved.
NOTE: This article was originally published by Radio World Magazine - July, 2016
---
---