www.theradiohistorian.org
Copyright 2011 -
John F. Schneider & Associates, LLC
(Click on photos to enlarge)
---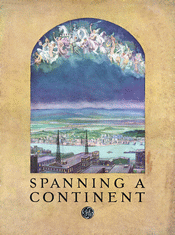 The Cover of this 1928 G.E. publication
depicts an aerial view of the WGY antenna
in Schenectady, NY.
---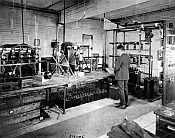 WGY's first 1,000 Watt transmitter, 1922
---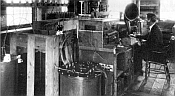 WGY station operator, 1922
---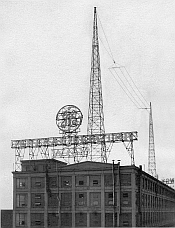 One of WGY's towers on the roof of GE Building 40
---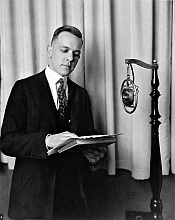 WGY's first General Manager,
Kolin Hagar
---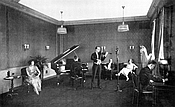 A view of the WGY studio in
Schenectady, 1926.
---
---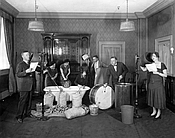 The "WGY Noisemakers" provided the sound effects for a dramatic broadcast, 1925.
---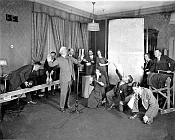 ---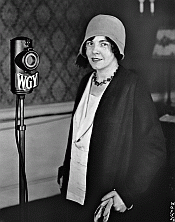 ---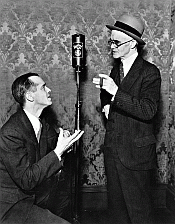 ---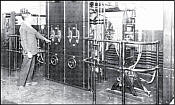 WGY's third transmitter
---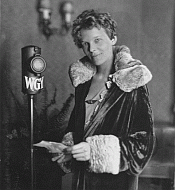 Amelia Earhart talks on General Electric short wave radio station W2XAF during a program to Admiral Richard Byrd's Antarctic Expedition of 1928-1930
---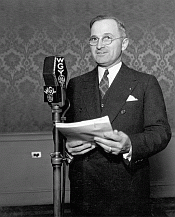 Harry S. Truman on the WGY Farm Forum, 1936
---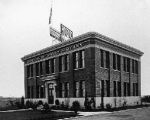 KGO Studio Building, Oakland, CA, 1924
---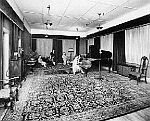 ---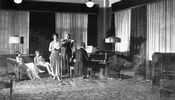 Another view of the KGO
Main Studio, 1926
---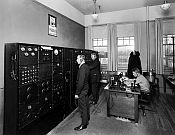 ---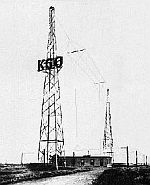 KGO Transmitter Building and Antenna, Oakland, CA, 1924
---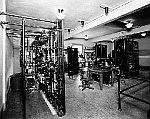 KGO 7,500 watt Transmitter, 1924
---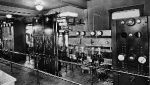 Another view of KGO Transmitter Room, 1924
---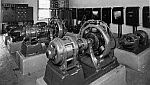 KGO Motor Generator Room, 1924
---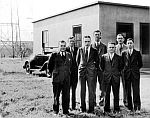 KGO transmitter engineers pose in front of transmitter building - 1934
---

Howard Milholland, KGO Manager
---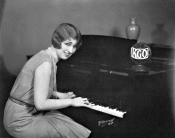 Jazz pianist Cressy Fereris was heard every Thursday afternoon on KGO
---
---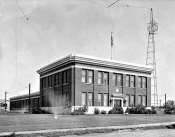 KOA's first studio buidling, 1924
---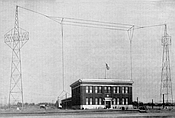 Another view of the KOA building, 1926
---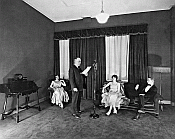 A broadcast from KOA's small studio, 1926. There was also a large studio, 22 x 45 ft., for orchestras and large choruses.
---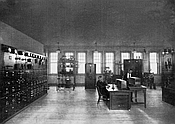 An Interior view of the KOA
transmitter room, 1926.
---
---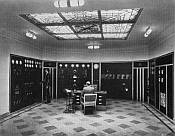 KOA's RCA 50-B 50,000 Watt transmitter, 1935
---

General Electric Enters the Field of Radio Broadcasting
2012 marks the 90th anniversary of the entry of the General Electric Company into the field of radio broadcasting, with the dedication of its station WGY in Schenectady, New York.
The General Electric Company had been one of the giants of the electrical industry since its founding by Thomas A. Edison in 1890 under the name Edison General Electric. After conquering the worlds of power generation and transmission and electric lighting, G.E. became one of the pioneers in the radio field when it entered into a partnership with Westinghouse Electric Corporation in the formation of the new conglomerate, RCA – The Radio Corporation of America. As a manufacturer of the first RCA radio receivers, G.E., like Westinghouse, saw value in operating broadcast stations to provide quality programming to the public, which would in turn promote the sale of radio receivers. The operation of radio broadcast stations also provided them with a real-world laboratory for the development of broadcast transmitters and antennas.
WGY, Schenectady
GE had dabbled with radio as early as 1912 when it operated experimental station 2XI. Then, late in 1921, the company decided to construct a new broadcasting station at its manufacturing facility in Schenectady, New York. The station received the fortieth broadcasting license issued by the Department of Commerce, authorized for a power of 1,500 Watts – which at that time was the most powerful station in the country. The call letters WGY were assigned. In the early part of the 1920's, WGY – along with most other broadcasters – shared the single frequency of 360 meters – 833 kHz. In 1923, the station moved to 790 kHz, at first sharing time with WHAZ in nearby Troy, but by 1928 it had exclusive use of the channel. (WGY moved to its present 810 frequency in 1941 with the nationwide adjustments required by NARBA treaty.)
Two 150 foot towers were constructed on the top of building 40 at the G.E. factory in Schenectady and a flat-top wire antenna was suspended between them. An experimental transmitter was built in the laboratory of building 36 – or more accurately, parts scattered around the laboratory were connected to create an operating "transmitter" – a hodge-podge of tubes, wires and transformers. The engineers continually experimented with modifications to the circuit over the next year, and would frequently ask listeners to comment about changes to the quality and reach of the signal.
In the first years of commercial broadcasting, the company used WGY for experiments with new vacuum tubes, receiving circuits, transmitting circuits, short wave, television and many other aspects of the radio science. In August of 1922, WGY was the first station to use a condenser microphone, another new G.E. development.
G.E.'s publicity manager, Martin P. Rice, became WGY's first manager of broadcasting, and Kolin Hager was the first announcer. WGY debuted on February 20, 1922, with a test concert from 7:45 to 8:50 PM. Hager opened the program by saying, "This is station WGY. W, the first letter in wireless, G, the first letter in General Electric, and Y, the last letter in Schenectady." The short program consisted of live music with announcements of song titles and other information. The next day, WGY made its first remote broadcast—a speech by Governor Nathan Miller from Schenectady's Union College. On June 26, WGY broadcast the first recording of a live event - an address by radio inventor Guglielmo Marconi, the first of many broadcasts that would use the G.E. Pallophotophone sound-on-film photographic recording process.
WGY's comparatively powerful signal reached across the continent in those early days of uncrowded radio bands and scant electrical interference, and signal reports were received from Cuba, England and Alaska. WGY quickly gained a nationwide following because of the quality of its broadcasts.
Radio Plays
In addition to being a technology innovator, WGY was also an early innovator in programming concepts – especially in the broadcasting of radio plays. Early experience in the live broadcast of theater performances by other stations had not been successful. Listeners couldn't follow the story line without also seeing the stage action, which demonstrated a requirement for special radio drama techniques. Edward H. Smith, an actor with The Masque, a Troy community theatre group, proposed to Kolin Hager that WGY should conduct a series of specialized dramatic broadcasts for radio. Hager agreed with the proviso that none of the programs could go over 40 minutes, which he felt was the limit of the radio audience's attention span. So the Troy group formed the "WGY Players" and began a series of weekly Friday night dramatic broadcasts. The first one, heard on August 3, 1922, was an abbreviated adaptation of Eugene Walter's play "The Wolf", incorporating narration, specialized microphone techniques, rudimentary sound effects and live music bridges. (The microphone was disguised as a floor lamp to not frighten the actors.) "The Wolf" was a huge success, generating more than 2,000 letters from appreciative fans. After just eight plays, the audience response was so great that the 40 minute time limit was removed. 6,000 pieces of mail were received in the four days following WGY's Christmas performance of "Sign of the Cross". By the following spring, a total of 43 radio plays had been performed
Other early program innovations included live coverage of the Yale-Harvard football game, the WGY String Orchestra broadcast live from the State Theater, and regular radio talks on a variety of topics.
Radio Gimmicks
Not all programs on WGY were serious. Some programs were simply technical "stunts". In June of 1930, WGY broadcast the song "I Love You Truly" around the world via a series of shortwave rebroadcasts. The Schenectady signal was repeated in The Netherlands, Java and Australia, and was finally received again back in Schenectady. The station announced, "The music you are hearing has gone completely around the world".
On one occasion, a cat placed in front of a microphone in Schenectady had a fight with dog placed in front of a microphone in Sydney, Australia. On another night, a radio bridge game was held, with the players being located in New York and Argentina.
Early networks
In 1922, WGY was one of the first stations in the country to participate in "chain" broadcasting –connecting multiple stations together with program wire lines to broadcast a single program, which soon leading to the development of the commercial radio networks. The first network broadcasts used Western Union and Postal Telegraph lines to connect WGY, WJZ and WRC for broadcasts of the World Series. In June of the following year, WGY joined KDKA and KYW to rebroadcast a meeting of the National Electric Light Association that originated from AT&T's station WEAF in New York. In March of 1924, a MIT Alumni banquet at the Waldorf-Astoria Hotel originating at WJZ in New York was carried by telephone lines to WGY where it was rebroadcast on AM and shortwave. General Electric's shortwave signals over W2XAF and W2XAD were picked up by the Westinghouse shortwave station KFKX in Hastings, Nebraska, which relayed it to KGO in Oakland, resulting in a coast-to-coast live broadcast. Finally, on January 1, 1927, WGY became one of the inaugural stations of the new NBC radio network.
In 1924, WGY moved into larger studios at 1 River Road. In 1937, the station moved into an art deco studio building located on Washington Avenue, across from the G.E. plant, which it occupied until 1957.
High power
In 1924, WGY increased its power to 5,000 watts, moving its transmitter to the current location in Rotterdam. This was G.E.'s South Schenectady transmitter laboratory, a 54 acre site which also housed the company's two shortwave stations. Here, WGY broadcast from a 240 ft. high vertical "cage" antenna with ground radials instead of the usual T-type antenna of the time. (This antenna was replaced with the present 625 ft. half-wave tower in 1938.) Soon afterwards, the power was increased to 10,000 watts.
The Department of Commerce was interested in exploring "super power" broadcasting, and so authorized WGY and WJZ to be the nation's first 50 kW stations. WGY was the first station to operate at that power, more than a year ahead of WJZ, beginning its experimental high power broadcasts on July 18, 1925. Full time operation was authorized on May 8, 1926. In 1927, WGY was allowed to operate at 100 kW from midnight to 1:00 AM under a 30-day experimental license. In 1930 WGY operated for a short time experimentally at 200 kW, and received signal reports from as far away as New Zealand; but these powers were never formally approved and the station returned to 50 kW operation. Reception reports from listeners were highly valued during these years of developing technology, and the engineers determined that the station was being received at a distance of 500-600 miles with the same quality as most stations were heard at 50 miles.
During these periods of high power experimentation, WGY became G.E.'s test bed for the development of crystal controlled transmitters and high powered tubes. Its 100 kW transmitter design used a crystal-controlled oscillator followed by five stages of amplification to reach 20 kW, grid modulated at medium power level. This in turn drove a final 100 kW linear RF amplifier using two water-cooled power amplifier tubes with a DC filament voltage of 33 volts at 210 amps. It was powered by six high voltage rectifier tubes and a motor-operated voltage regulator. The design concepts developed for the WGY transmitter were finalized and introduced to the commercial market by G.E. and RCA in 1930 in the form of the RCA 50-B, the 50 kW transmitter used by most clear channel U.S. broadcasters during the 30's and early 40's.
General Electric Builds Two More Stations
In 1923, the companies of the "Radio Group" -- GE, Westinghouse and RCA – agreed that each company would operate three high power stations in different regions of the United States. Together, these stations would provide coast-to-coast coverage and stimulate the sale of radio sets. The group agreed that the stations would offer listeners the best possible audio quality and programming. Westinghouse was already operating its three stations–KDKA in Pittsburgh, WBZ in Springfield, Massachusetts, and KYW in Chicago. RCA was operating WJZ in New York and would soon open WRC in Washington, D.C. General Electric had only WGY, and so it took responsibility for opening two more stations to serve the Western half of the continental United States. Both new stations would be modeled after WGY.
G.E.'s director of broadcasting, Martin P. Rice, and its engineer in charge of technical operations Harry Sadenwater, took a tour of several Western cities during February of 1923 to select a location for the two stations. They decided that one station would be either in Dallas or Denver, while the other station would be in either San Francisco or Oakland. They held meetings with the local governments of all four cities, who promised local cooperation in exchange for the prestige of being the home of the new stations. Denver and Oakland were ultimately chosen.
KGO, Oakland
The first station was KGO in Oakland, California, starting construction in June of 1923. The Bay Area was chosen because of its location midway along the Pacific Coast, and due to its ample supply of musical talent. General Electric first announced plans to build the station on Telegraph Hill in San Francisco and drew up plans for several ornamental antenna structures. However, they finally settled for the expediency of building on the 24-acre site of a new G. E. power transformer manufacturing facility at East 14th Street and 55th Avenue in Oakland.
A beautiful new two-story brick studio building faced East 14th Street. The first floor held the station offices: the program manager, correspondence room, and a reception room for visitors. In the rear of the building was the power room, with its banks of storage batteries and power generators, which powered the amplifying equipment in the control room upstairs. A large and small studio were located on the second floor, both equipped with soundproofing and a ventilation system. The large control room was located between the two studios, equipped with a loudspeaker to monitor the broadcasts. Three operators were always on duty in the control room -- two to keep the equipment running properly and to maintain a constant sound volume, and a third to listen for distress calls from ships at sea on a separate receiver. In the event of a distress call, all coastal stations of the period were required to shut down, clearing the radio bands for emergency traffic.
The transmitter building was located about a thousand feet away from the studio at the opposite end of the G.E. property, and the buildings were connected by cables that carried the program audio plus a system of signaling lights and an intercom. It was a small one-story stucco building that housed three transmitters in one room and six power generators in the other. KGO was one of the few stations then to have a duplicate of every piece of transmitting equipment, so that the station could stay on the air in the event of any equipment failure. This was the purpose of two of the three transmitters. The third was for communicating with ships in distress, which was kept on standby at all times. An emergency power generator was loaned at no cost by Pacific Gas and Electric. The two 150-foot steel towers that supported the antenna straddled the transmitter building, one on each side so that the antenna hung directly over the structure. Twelve counterpoise wires were suspended parallel to the antenna fourteen feet above the ground. The letters K-G-O were mounted in large illuminated figures on the side of one tower. For its time, KGO represented the epitome of technology.
The 1,000 watt transmitter ran with water cooled G.E. tubes, using high level plate modulation of the intermediate high power free-running oscillator followed by a final linear amplifier. Motor generators provided all plate and filament voltages. Two operators were continuously on duty at the transmitter, responsible for keeping the oscillator on frequency (in the days before crystal control), keeping the modulation within an acceptable range and observing the operation of all equipment.
KGO first took to the air January 8, 1924 with 1,000 watts on 312 meters (960 kHz). It was on the air initially on a schedule of 8 to 10 PM every Tuesday, Thursday and Saturday. KGO immediately developed a reputation among its listeners for having consistently high program quality. Studio Manager Howard Milholland enlisted some of the top musical artists in the Bay Area to perform on the station. Indeed, most of the program staff itself was musically inclined. Milholland and three other staff members formed a quartet that was heard frequently over the air waves. Announcer Jennings Pierce, who later announced for NBC, was a very fine tenor. And Carl Rhodehamel, Publicity Manager, directed the KGO Little Symphony. In fact, it is quite possible that KGO required all staff members to have musical abilities.
KGO pioneered in educational broadcasts as well as music. Arthur Garbett's radio classrooms were heard daily in schools all over Northern California. This was expanded in later years to encompass radio courses in history, drawing, chemistry and other subjects, as well as broadcasts of lectures and University extension courses. Taking its cue from its eastern sister station, KGO was immediately active in the broadcasting of radio drama. Wilda Wilson Church, who had headed the dramatic department of an all-girl's school in Berkeley and had directed early radio plays at station KRE, became KGO's full time dramatic director. She assembled and directed a dramatic company called the KGO Players, and quickly showed superior talent in developing radio drama as an entity totally separate from the theater and suited to the aural properties of radio. She would later bring her national recognition with NBC.
KGO also carried many remote broadcasts in its early years. A studio was installed in the St. Francis Hotel in San Francisco in May of 1924, which was the source of regular programs by Henry "Hank" Halstead and his Victor Recording Orchestra and the Isham Jones' Jazz Band. KGO also broadcast remote pick-ups from clubs, churches, auditoriums, hotels, theaters and dance halls on both sides of the Bay.
KGO's frequency and power were modified several times in its first years, and the station operated on 960, 1000, 830 and 780 and 790 kHz In December of 1924, KGO was authorized to increase its power to 1,500 watts under a special arrangement with the government that provided for gradual increases in increments of 500 watts as long as the station did not interfere with other broadcasters. Only five other stations in the U.S. had been allowed to broadcast at 1,500 watts up until that time. In November, 1928, KGO settled on 7,500 watts at 790 kc. and it remained at this power level until 1947, when it was authorized to raise their power to the present 50,000 watt. KGO and WGY were the only two U.S. stations assigned to 790 kHz. (Both stations moved to 810 kHz in 1941.)
KGO quickly implemented the technological improvements developed by the Schenectady engineers, and in 1926 it began operating with one of the first crystal-controlled transmitters, which caused it to be recognized by the Bureau of Standards as a "constant frequency station". These and other technological advances helped make KGO one of the nation's top stations technically, as well as in programming.
On August 17, 1929, KGO put a short wave station, W6XN, on the air as part of the sixth Pacific Radio Show held in San Francisco's Civic Auditorium. The proceedings of that exposition were transmitted via shortwave to Schenectady, where they were rebroadcast over WGY and her two shortwave stations. (In 1939, General Electric would return to the short waves from the Bay Area with its station KGEI at the 1939 Golden Gate International Exposition.)
An important advancement for radio took place in 1926 when the National Broadcasting Company, NBC. General Electric owned 30% of the new network, along with RCA and Westinghouse. So it was natural that GE's three radio stations (WGY, KGO and KOA) would become affiliates. In April of 1927, NBC formed its Orange Network to service the Pacific Coast, and both KGO and KPO in San Francisco became affiliates. On October 1, 1929, KGO was selected as the key station for the West Coast network, and at that time NBC took over complete management and operation of the station. From that date, all of KGO's programs originated from NBC's San Francisco headquarters at 111 Sutter Street. The KGO studio building became an office building for the General Electric factory, but the Oakland transmitter continued to be used until 1947, when the present 50,000 watt plant was built on the approach to the Dumbarton Bridge.
KOA, Denver
General Electric's third station was KOA in Denver, licensed in 1924 for 1,000 watts at 930 kHz. The first KOA studio building at 14th & Krameria on the East side of Denver was a virtual duplicate of the KGO building, and the station had an almost identical transmitter and antenna configuration. Freeman Talbot was named to the position of manager.
KOA's inaugural broadcast took place on Monday, December 15, 1924. In April of the following year the power was increased to 2,000 watts, and again in November to 5,000 watts. In April of 1927 it was briefly raised to 12,500 watts on 920 kHz, but in a quick succession of changes ordered by the new Federal Radio Commission, its power was reduced to 10,000 watts day/5,000 watts night, and then to 5,000 watts day,/2,500 watts night. Finally, in November of 1928, KOA was again permitted to operate with 12,500 watts and moved to its new frequency of 830 kHz.
KOA enjoyed only two years of stand-alone operation before it became a network affiliate. Like its sister stations WGY and KGO, the Denver station was chosen to be NBC's key affiliate in the mountain region. In fact, for the first year of its operations starting in 1926, NBC's East Coast network feeds only reached as far as Denver, and KOA broadcast programs from both the NBC Red and Blue networks. Starting in 1929, when AT&T completed its transcontinental network quality phone lines, KOA also broadcast NBC Orange network programs fed east from San Francisco. As a result, KOA had its pick of the best programs from all three networks.
As in San Francisco, NBC formally took over the operation of KOA from General Electric in October of 1929, even though the station continued to be owned by G.E. for several more years. In 1932, a new KOA studio/transmitter building was constructed at 18500 East Colfax Avenue in Aurora, Colorado. It was an imposing art deco brick structure with the General Electric logo carved into its stone façade, and giant replicas of two radio microphones flanking the main entrance. The new 50,000 watt G.E. transmitter installed there was a direct descendent of the transmitter first developed for WGY. A decorative water fountain on the front lawn of the building served double duty, as it was also a cooling pond for KOA's water-cooled transmitter. The Aurora building was built to house elaborate new KOA studios, but they were in service for only two short years. In 1934, new studios were completed on the 4th, 5th and 6th floors of the NBC Building at 1625 California Street in Denver and the glorious building in Aurora became just an oversized transmitter building. In 1934, a 475 foot self supporting tower was completed at the site, the highest self-supporting tower in the U.S. at the time.
KOA vacated the Colfax Avenue building in 1959. It is now home to the Colorado Department of Transportation and the Colorado State Patrol. It was declared to be an historic landmark by the City of Aurora.
Breakup of the "Radio Group"
For most of commercial broadcasting's first decade, the industry and its technology were controlled in large part by the big corporations that formed the "Radio Group" – General Electric, Westinghouse and RCA – which was itself owned in large part by the two companies – and to some extent AT&T. Between them, the companies controlled the nation's biggest broadcasting stations and NBC's Red and Blue Networks. They also controlled the most important radio patents, which gave them a monopoly on the design and manufacture of radio transmitters, receivers and vacuum tubes. It was impossible for others to compete effectively against "the octopus". Finally, in May 1930, the U.S. Department of Justice brought an anti-trust suit against the four companies. The deck was about to be re-shuffled.
After more than two years of negotiations between the government and the companies, a consent decree was decided upon that resulted in General Electric and Westinghouse divesting themselves of all interest in RCA and NBC. The companies would continue to own their stations, but NBC would operate them. Shortly thereafter, G.E. would sell KGO and KOA to NBC, leaving them with WGY as their only company-owned radio broadcaster. General Electric, the giant electrical conglomerate, would go back to its core business of power generation and transmission, and plow new ground with both heavy industry and consumer products. But it left behind a legacy in the form of three of the country's most important AM broadcasting stations. In later years it would continue to make radio waves in short waves and broadcast transmitter design.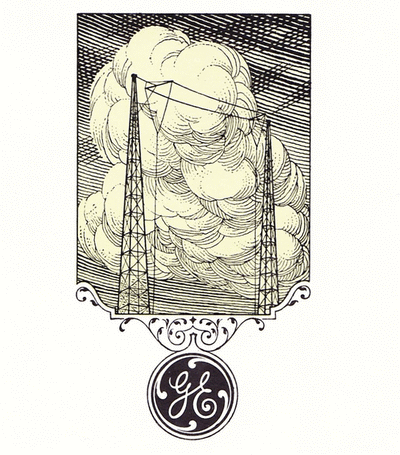 BIBLIOGRAPHY
---
NOTE: This article first appeared in the Monitoring Times Magazine, July, 2012.
---
www.theradiohistorian.org

John F. Schneider & Associates, LLC
Copyright, 2012