www.theradiohistorian.org
Copyright 2011 - John F. Schneider & Associates, LLC
(Click on photos to enlarge)
---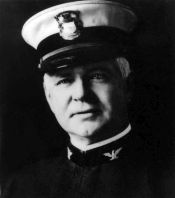 Detroit Police Commissioner William P. Rutledge, police radio pioneer and visionary

---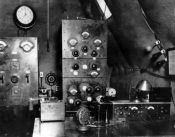 Detroit police radio station W8FS on Belle Island, 1928. The call sign was later changed to WCK.

---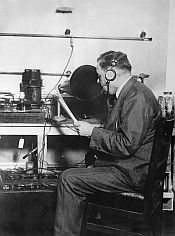 Clifford Grant, chief of detectives in Washington, DC, sends out daily radio reports of stolen autos, August, 1922.
---
---
New York City police superintendent M.R. Brennan transmits the description of a man wanted for murder, September, 1922.

---
Massachusetts State Police radio operator William Ellis sends all-cars bulletins over the department's shortwave radio station WMP, August, 1931.
---
Gren J. Henning broadcasts a description of a crime in progress over Washington, D.C., police station WPDW. The city had seventeen radio-equipped patrol cars. January, 1931.

---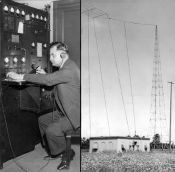 Two more views of WCK on Belle Island, Michigan, 1932. On the left, Federal Radio Commission inspector M. W. Grinnell checks the operation of the transmitter.

---
Radio receiver installed on the seat back of a Detroit police car.

---
A police radio receiver installed the trunk of a Baltimore patrol car, 1933.

---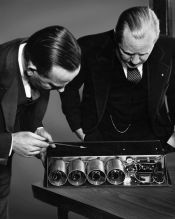 The Milwaukee Police Department received its first group of police band radio receivers in November, 1930. Here, Stanley Hubbard of the Western Radio Engineering Co. in St. Paul, Minnesota, shows the details of the new radios to purchasing agent Joseph Nicholson. Hubbard was also owner of broadcasting station
KSTP in St. Paul.


---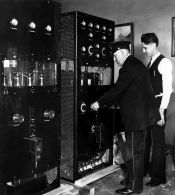 Sgt. Edward Holm of the Milwaukee Police Department inspects his department's new police band transmitter. At right is H. R. Skifter of the Western Radio Engineering Co., which supplied the equipment.

---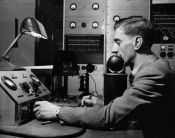 Operator W. J. Wiseman is at the controls of the Milwaukee Police Department's radio dispatching console, 1936.

---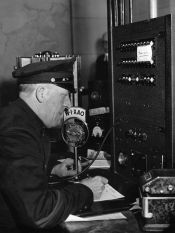 W1XAO in Boston – the first two-way police radio system.

---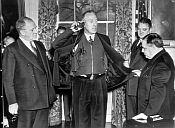 New York City tested a patrolman's 2-way vest radio in 1940. It weighed 11 lbs. and had a range of 1,000 ft. Mayor Laguardia and Police Commissioner Lewis Valentine inspect the set, being worn by patrolman William Proctor.
---


Policing in America before the 1920s was an entirely different process than it is today. The main work was done by the beat policeman, who wandered his assigned neighborhood on foot. If he needed to communicate with his precinct officer, he used a street corner police callbox. Lights, bells or sirens at precinct stations were used to notify the beat policemen to call in. In 1920, to speed up the process, the Pennsylvania State Police initiated a cumbersome system of phoning people along police routes - they would put a flag in their window, so that officer would see the flag and know to phone headquarters. But after prohibition was enacted, these methods were wholly inadequate. Bootleggers and other criminals with fast automobiles could strike a target and be gone before the foot patrolmen had time to react. To combat the dramatic upsurge in crime, the police also needed automobiles, and so the first patrol cars were born.
Still, the use of automobiles by the police was not enough. Officers in patrol cars were dispatched to the scene of a crime, and when they completed their tasks they returned to base to await another assignment. Further, there was no way for headquarters to communicate with the officers once they left the station. One more enhancement was needed, and that important tool was radio.
The Detroit Police Department, led by the visionary police commissioner William P. Rutledge, was the first to seriously experiment with installing radio receivers in patrol cars beginning in 1922 with the licensing of its own radio station, KOP. But, although the emerging technology of radio held obvious promise as a means of communication, there were still many shortcomings in its fledgling years that prevented its reliable use in vehicles. Ignition noise was one problem, and the jarring movement of the vehicles over Detroit's bumpy streets detuned receivers and knocked the delicate tubes out of their sockets. Further, the high filament currents of those early tubes required dedicated radio batteries, installed on the running boards, and they needed to be re-charged every four hours. Signals from the comparatively weak transmitters faded out under bridges and among tall buildings. Radios were sometimes found to have been re-tuned by the patrolmen to other stations so they could listen to ball games. If those problems weren't daunting enough, the Commerce Department had licensed KOP as a broadcasting station, and they insisted the station transmit entertainment between the police calls. Commissioner Rutledge complained, "Do we have to play a violin solo before we dispatch the police to catch a criminal?"
The Detroit P.D. put together three special radio-equipped police cruisers with radio receivers mounted on the rear of the front seat. They had special bulletproof windshields and shotgun mounts. But while they had some successes, the receivers could not be made reliable. In frustration, Commissioner Rutledge abandoned the department's radio program and closed station KOP in 1927. However, two officers who were also radio amateurs pleaded with Rutledge to let them try to develop a reliable receiver, and he allowed them to experiment. A year later, Kenneth Cox and Robert L. Batts had come up with a new, stable receiver design of their own manufacture.
The Detroit Police Department reactivated its radio program in 1928, and this time with much better results. The Cox/Batts receivers were hand-built by the police radio staff and installed in several dozen vehicles. The six-tube circuit was constructed on a steel chassis, tuned to the police frequency and then padlocked into a metal cabinet. The officers could adjust the volume but not the channel. Dedicated 6 volt batteries ran the receivers, and oversized alternators in the vehicles kept them charged. In the event of a failure, a radio shop vehicle could meet the patrol car in the field and swap receivers in a few minutes.
A new police radio station, WCK, was constructed on Belle Island, away from Detroit's tall buildings. Operating on 3166 kHz, far away from the AM broadcast band, it delivered much better results and was soon operating 24 hours a day. WCK broadcast a test every half hour to allow each patrol squad to verify its receiver's working condition.
This time, Detroit was enjoying great success with its police radio system. In 1929, with fifteen months of experience, WCK had transmitted over 15,000 messages, resulting in 800 arrests. "Radio News" magazine reported that "burglars have been trapped in homes they were looting. Bandits have been captured or killed as they fled from hold-ups. Hit and run drivers have been overtaken, arrested and returned to the scene where they left hapless victims lying in the street." In 1930, Detroit was operating a fleet of forty radio cars. These were fast seven-passenger cruisers with a fully-armed crew of four, and lighter scout cars with a pair of officers. That year, Police Commissioner Rutledge told "Radio News" magazine: "We now have almost instant communication with every man in a radio-equipped car throughout the city. Two and a half seconds after an alarm reaches headquarters, it is flowing through the air to radio equipped cars. All of them get the message, and simultaneously. I regard the use of radio by the police as one of the greatest developments of police work. … I believe that it will eventually be possible to communicate with every man in a police department directly by radio."
Detroit was not the only city experimenting with radio at the time. In 1927, the Pennsylvania State Police also opened a broadcast station, WBAK in Harrisburg. It aired a combination of entertainment and police bulletins, but was only on the air part of each day, sharing time on its frequency with another broadcast station at Pennsylvania State College. The State Police also operated a network of fixed radio telegraph stations around the state for the exchange of information between offices.
In a number of cities, local broadcast stations made arrangements with their police departments to transmit bulletins in between their regular programming. WGN in Chicago, WNYC in New York, and KJBS in San Francisco were three of the more active stations doing this. At WGN, Announcer Pat Barnes would interrupt the station's evening programs at any moment with a "Squads Attention!" announcement. Some nights saw a dozen calls. But this method of communication proved cumbersome, and ultimately was unsuccessful. The interruptions to the regular programs annoyed listeners, and sent rubbernecking spectators rushing to the scene of a crime, often arriving before the police themselves. And the broadcasts alerted the criminals themselves. In one case, WGN broadcasts the alert of a robber looting an apartment. Police arrive to find it empty, a radio playing away, and a note saying: "Dear Radio man: Thanks for the tip-off. You're a swell announcer. I'm signing off now." One agency tried to avoid this problem by sending messages in code, utilizing an early phonetic alphabet scheme: i.e. "Brazil Sugar Preferred, Whales, Ships, Broadaxes".
The solution to the police radio dilemma was obvious, as demonstrated in Detroit: there needed to be dedicated police radio stations, outside of the regular broadcast band. Eventually, the Federal Radio Commission got the message and in 1930 dedicated eight channels in the 1712 to 2470 kHz range for a shortwave police radio service. Transmitter powers varied from 50 to 500 watts, depending on the size of the city. Nearby communities shared the same frequency, which avoided frequency congestion and allowed dispatchers to hear reports from neighboring cities.
The F.R.C.'s action opened the floodgates, and the applications for police radio transmitters poured in. By 1933, there were 123 radio stations licensed or under construction, with Detroit serving as the model for many of these community systems. Patrolman Cox was sent to Chicago to install three transmitters and 142 vehicle receivers, while Batts went to Indianapolis to help with another installation. Dozens of cities came on line simultaneously: the city of Berkeley installed receivers in every police vehicle; Pasadena put 9 cars into operation; Seattle had 10 cars and planned 25; Tulare, California, put six cars into operation using headphones instead of loudspeaker. Cincinnati made plans for installations in 150 police and 75 fire vehicles, 34 fire stations and 12 police stations; Beaumont, Texas, built a station for its 8 police cars plus the fire and water departments; Atlanta police asked its city council to fund a system with 20 cars.
One of the more elaborate system build-outs was in New York City. The main transmitter, WPEG, broadcast with 500-watts from the Manhattan headquarters, with two auxiliary 400 watt transmitters, WPEF and WPEE, on same frequency in The Bronx and Brooklyn. The transmitters weren't synchronized, but transmitted about 125 calls a day in rotation from the same dispatcher's microphone. He operated from a large circular desk which had a map of the city under glass. Markers were placed on the glass to denote the location of the patrol vehicles.
In 1932, 50 cities responded to a survey requesting information about the effectiveness of their police radio systems. For April of that year, they reported a total of 155,000 calls to 2,255 equipped patrol cars, resulting in 12,600 arrests and recovering $386,000 worth of stolen property.
Although these early police radio systems were quickly proving their worth, there were still shortcomings. Interference between stations on the shortwave frequencies became a problem, especially at night. A patrol car in Boston received a call to "go to Lorenzo Street to break up a ball game". Not knowing of a street with that name, they inquired and discovered they were picking up a police call from the Alameda, California, police department. Further, there were still problems with criminals and the general public "listening in" on the police broadcasts once home receiver manufacturers started adding police bands to their radios.
Another problem was that police radio transmissions until this time were just one-way. The only means for a patrol car to communicate back to headquarters was from a telephone or call box, and they couldn't communicate with officers in other vehicles responding to the same call. It was only a matter of time before experiments in two-way police communication were undertaken. The first two-way system was tested in Bayonne, NJ, in 1933, and Detroit followed a few months later. The radio equipment filled the trunk of a vehicle and required a battery change at the end of each shift. Meanwhile, also in 1933, the River Forest, Illinois, police department experimented with higher frequencies on its station W9XB, operated on 41 MHz with 40 watts. In 1933, the F.C.C. formally authorized a new public service band for two-way police and emergency communications, with AM systems operating in the "Ultra Shortwave" range of 30.58 to 39.9 MHz.
Police radio systems continued to expand and improve at a rapid pace in the late 1930s, utilizing both the old one-way band and the newer two-way band. More than 2,000 municipal and state police forces were operating their own radio systems in 1937. Cleveland added a radio-equipped blimp in 1936 to help direct traffic flow. In 1939, Washington, DC, police had a fleet of fifty radio-equipped motorcycles. The equipment for these was installed in two shock-mounted waterproof steel boxes mounted on each side of rear wheel.
Surprisingly, as the market for police radio equipment mushroomed, very few manufacturers entered the field. General Electric was an early supplier of mobile AM two-way radio equipment, but it abandoned the market at the start of World War II. Taking its place as the predominant supplier of police radio systems was the Galvin Manufacturing Co. under their Motorola brand name. Paul Galvin and Elmer Wavering had been among the first to market consumer automobile radios, and so had a good understanding of the special needs of vehicle-equipped radio systems. Galvin hired Dan Noble as the chief of Research and Development, and he developed the first two-way FM radio system for the Connecticut State Police in 1938. In 1939, the Joliet and Lake Forest, Illinois, police departments converted to FM in the 35-39 MHz range. By 1940, most police radio systems had converted to FM with Motorola equipment. In 1939, Wavering becomes the head of the company's police radio department, and the company went on to dominate the market for police radio equipment for many decades afterwards.
In 1949, the F.C.C. updated its Public Safety radio rules, and authorized new frequencies in the VHF and UHF bands. These quickly became the frequencies of choice for police systems around the country, although the old shortwave channels continue to be used in some locations.
Portability outside a vehicle still was only a dream, but it had always been on the mind of Chief Rutledge, the police radio pioneer. In 1936, he wrote, "The time will come when every individual policeman on the beat will be equipped with a small radio receiver and be directed by radio orders." His dream became a reality in 1940, when patrolmen in Atlantic City began carrying small belt radio receivers. Police work had now come full circle, and radio was now in the hands of the beat patrolman, foretelling the development of the handheld radio transceiver. The modern era of police radio communications had arrived.
BIBLIOGRAPHY:
Harrisburg Broadcasting By Timothy P. Portzline, Arcadia Publishing
Guns of Outlaws: Weapons of the American Bad Man by

Gerry Souter

- "Communications Weapon Trumps Firepower", page 252
Wireless Horizon:

Strategy and Competition in the Worldwide Mobile Marketplace, by Dan Steinbock
Federal Radio Commission Annual Reports 1927-33
Federal Radio Commission "Radio Service Bulletins" 1928-32
"Popular Science Monthly" Magazine. November 1930.

"Radio Aids Police in Swift Arrest of Crooks".
"Journal of Criminal Law and Criminology", Vol. 33 No. 2, 1942:

"Development and Present Trend of Police Radio Communication" by Joseph A. Poli
"Popular Radio" magazine – February, 1926. "Battling Bandits by Broadcasting"
"Radio Digest" Magazine, September 1923.

"Station KOP Aids Michigan Troopers"
"Radio News" Magazine, Feb. 1930 pg. 716. "Cops Don Headphones".
"Radio News" Magazine, Aug 1939 pg. 44.

"Nation's Capital Adopts Radio-Equipt Police Motorcycles".
"Radio News" Magazine, July 1929, pg. 13 – "Squads Attention – Radio Enlists in Chicago's War on Crime"
"Radio News" Magazine, Nov. 1929, pg. 400 – "Police Radio Routs Racketeers"
"Radio News" Magazine, March 1930, pg. 826 – "A New Arm of the Law"
"Radio News" Magazine, Aug 1930 pg. 136 - "Manhunts by Radio"
"Radio News" Magazine, August 1932, pg. 71 – "Municipal Radio"
"Radio News" Magazine, December 1936, pg. 344 – "Police Radio Now Up in the Air"
"Western Electric Pickups" Magazine, July 1939. "Police Radio, Kansas City, MO"
"Western Electric Pickups" Magazine, Oct 1939, pg. 21 – "Police Radio, St. Louis, MO"
"RCA Broadcast News" – Aug 1932, pg. 38 – "The Baltimore Police Radio System".
"RCA Broadcast News" –April 1932, pg. 14 – "The St. Louis Police Radio".
"Chronology of Police Radio" – Lt. Harry Blesy.

http://rfpd.tripod.com/id18.html.
---
NOTE: This article first appeared in the July, 2018 edition of the Spectrum Monitor magazine (Vol. 5, No. 7)
---
---
---