www.theradiohistorian.org
Copyright 2014 -
John F. Schneider & Associates, LLC

(Click on photos to enlarge)
---
The A.H. Grebe Company's mobile station WGMU broadcast with 100 watts from a
Lincoln sedan.
---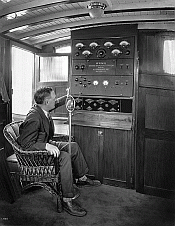 Maritime Mobile transmitter of the A.H. Grebe Station WRMU, 1926-27. The transmitter is at the top of the cabinet, a Grebe receiver is in the middle, and a motor generator is located behind the door at the bottom.
---
---
---
---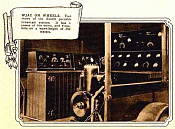 A third view shows the interior of the WJAZ mobile station, with the transmitter at right and a receiver at left.

---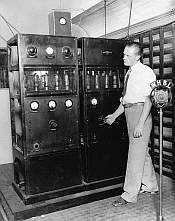 ---
This view shows the studio half of the railroad car of radio station WHBL. A complete radio program was broadcast from here while the train was en route from Chicago and Minneapolis on July 1, 1927.
---
---
---
---
INTRODUCTION
1922 was the year that radio broadcasting exploded across the American landscape like a thunderclap. Americans discovered radio almost overnight, and were instantly enthralled at the possibility of hearing voices and music out of thin air. Prior to radio, the only mass media that existed were newspapers, silent films and phonograph records – and none of these were instantaneous. Now, you could hear a live orchestra from Pittsburgh, or children's bedtime stories as they were being read in a studio in San Francisco.
Americans spent $60 million on radio sets and parts in 1922, and businessmen and hobbyists fed the radio craze by building hundreds of new broadcasting stations. Almost overnight, the radio spectrum was packed with signals from all around the country - the number of licensed stations went from 28 in January to 670 by the end of the year.
At first, all radio broadcasting stations were licensed by the Department of Commerce, who authorized stations in hundreds of cities around the country. But there were still many smaller cities and towns that did not yet have their own broadcast stations, and so to serve these cities a special class of "portable" station license was created. These portable stations were essentially complete radio stations on wheels. They would bring their equipment into cities that had no local radio service and set up temporary broadcast facilities to transmit special events and introduce people to the marvels of radio. Many companies used these stations as promotional vehicles – the radio manufacturers Grebe and Zenith both had portable traveling radio stations that went town to town promoting the sale of their radio sets.
THE CARRELL STATIONS
Charles L. Carrell, a Chicago theatrical booking agent, was the biggest portable broadcasting entrepreneur in the country. At his peak, he had seven portable transmitters- each with its own license and call sign - traveling around the Midwest broadcasting live from the local theater to promote his vaudeville theatrical engagements.
Carrell, who had an early fascination with radio, acquired one of the very first portable stations, WBBZ (1390 kHz) in Indianapolis. (The call sign was taken from an Indianapolis promotional slogan – the "World's Busiest Business Zone".) Carrell moved WBBZ to the Broadview Hotel in Wichita, where it broadcast professional from his theatrical revues as well as local talent. From there, it toured the Midwest with the Redpath Chautauqua circuit, broadcasting shows in every community where the vaudeville acts performed.
With the success of WBBZ, Carrell soon licensed other portable stations: WHBL, WHBM, WIBJ, WIBM, WIBW and WKBG. They traveled to cities far and wide, usually in the spring and summer months when county fairs and local festivals were at their peak.
NEW ENGLAND PORTABLE STATIONS
The Edison Electric Illuminating Company in Boston was a private electric utility founded by Thomas Edison. (In 1936, the company changed its name to Consolidated Edison.) It operated the Boston radio station WEEI (named for the company's initials), and it also had a portable radio station, WTAT (1230 kHz, later WAAT) that traveled around New England, going to electric shows to demonstrate the labor-saving benefits of electric lights and appliances.
WTAT's mission was "to give entertainment, music, and short talks by prominent people on electrical subjects." Its first broadcast took place at the Dedham Electrical Show in 1923. Edison staff members read news reports and performed musical numbers, and an Edison executive gave a speech entitled "Using Electricity in the Home". Over the next few years, WTAT traveled around New England and even made a broadcast from a ship at sea.
Charles Messter in Providence was another portable station operator. He was a radio equipment retailer, and he built 50-watt WCBR in 1924 to promote his products. Messter had a 200 foot long wire antenna that he would set up in temporary locations. He broadcast from Lynn's Strand Theatre in late May, and from the German Theatre in Roslindale in June. The station then went on the road, operating mostly in Eastern Massachusetts but on one occasion traveling as far north as Portland Maine. Messter later returned to Rhode Island and broadcast from the Rocky Point Amusement Park.
At the same time as Messter applied for his portable station, his buddy Harold Dewing also applied and was given the call sign WCBS. (Station call letters were assigned sequentially in alphabetical order in those days.) However, finding limited commercial success for his station in in New England, he took his it on the road to the Midwest where he had successful showings in Danville and Springfield, Illinois.
THE ZENITH AND GREBE STATIONS:
A.H. Grebe and Co., Inc. was an early radio receiver manufacturer operated by Alfred H. Grebe in Richmond Hill, NY. To publicize its radio products, Grebe operated two New York area broadcast stations – WAHG (his initials) and WBOQ (Borough of Queens). (WAHG became WABC, which was bought by CBS and later became today's WCBS.) Grebe also had licenses for two portable stations, both operating with 100 watts on 1270 kHz. WGMU was installed in a Lincoln sedan, while WRMU was installed on Alfred Grebe's yacht, the MU-1. Grebe used the station to broadcast live boat races from 1924 to 1927. It appears to be the only maritime portable broadcast station to ever have operated in the United States.
In Chicago, the Zenith Corporation was another radio manufacturer that acquired a portable station license to promote its products. The Zenith station WSAX (1120) was built on a one-ton truck chassis. It was originally built in 1924 to find the best location in the Chicago area where Zenith could locate its new radio station (WJAZ). Afterwards, it continued to be used as a publicity vehicle for Zenith through 1926.
Completely self-contained and battery operated, with 100 watt transmitter, generator, portable 53 foot telescoping antenna masts. Glass sides and lighted, including spotlights on the antenna masts. The audio control panel provided for the use of three microphones with 300 foot extension cables, allowing the truck to be parked outside of auditoriums to broadcast live concerts and events.
END OF THE LINE
After 1925, the interference between radio stations began to rise dramatically because too many stations had been allowed to operate. After a 1926 court ruling invalidated the authority of the Department of Commerce to regulate radio, with many stations decided to move to more favorable channels, which caused massive interference in the broadcast spectrum. The portable stations, who only added to the confusion, increasingly became the target of complaints from the established fixed broadcasters, as a portable station could pop up anywhere in the country and interfere with nearby stations on the same or adjacent channel. There was now less need for such stations, they argued, because radio was more established and both the powerful network stations and local community stations could be heard in most places.
Finally, in 1927, Congress created the Federal Radio Commission and gave it a mandate to clean up the chaotic radio broadcasting frequencies. One of the first issues that the FRC tackled was the issue of the portable stations. It issued General Order no. 6, moving all portables to 1470 and 1490 kHz, at the top of the band, and allowing a maximum operation period of 120 days in the spring and summer at no more than 100 watts of power.
Apparently that didn't fully resolve the issue, so on May 10, 1928, the Commission followed with its General Order No. 30, which stated: "It is hereby ordered by the Federal Radio Commission that no license or renewal or extension of existing licenses will be issued to portable broadcasting stations after July 1, 1928, and on that date all portable broadcasting stations will cease operations."
FINDING A HOME
As a result of the new rules, many portable stations simply went off the air after the 1928 deadline, but some of them were allowed to be converted into permanent stations located in underserved communities:
Harold Dewing's station WCBS, settled in Springfield, Illinois. It later became WCVS when CBS wanted the call letters for its flagship station in New York. It's now known as WFMB.
Charles Carrell took WHBM to East St. Louis, Illinois, at the invitation of the city's Chamber of Commerce, who wanted a station of its own on the east side of the Mississippi River. WHBM operated for a few months from the Lyric Theater, but it apparently didn't meet everyone's expectations as it had quietly ceased operations by the end of 1927. (A few years later, East St. Louis finally got its own station - WTMV.)
Four of Carrell's other stations were more successful in finding permanent homes: WIBW landed in Topeka; WHBL went to Sheboygan; WBBZ ended up in Ponca City, Oklahoma; and WIBM found a home in Jackson, Michigan. All of these stations are still operated today under their original call signs.
Carrell, who had the most to lose because of the new ruling, challenged the decision with the FRC. When they reaffirmed their decision and refused his request for renewal of his licenses, he took the case to the District of Columbia Court of Appeals, which in 1929 upheld the FRC's authority to regulate spectrum and eliminate the portable stations. Carrell was ordered to pay the court costs.
EPILOGUE:
The portable broadcast stations represented a short-lived but interesting class of broadcast station in the "Wild West" of early 1920s radio. They served a purpose at the time, as they helped develop an interest in radio in the underserved small communities of the country, but they ceased to be necessary as broadcasting matured into a stable mass medium that required structure and stability.
---
BIBLIOGRAPHY:
BUILDING THE BROADCAST BAND by Thomas H. White , 1996

http://earlyradiohistory.us/buildbcb.htm#portable

The Concise Encyclopedia of American Radio – Christopher H. Sterling, Cary O'Dell

Article, "A Portable Broadcasting Outfit", Literary Digest, November 8, 1924, pg. 23

Article, "A Mobile Radio Relay Station", Popular Radio, August, 1924, Page 130.

The Airwaves of New York: Illustrated Histories of 156 AM Stations in the Metropolitan Area, 1921-1996, by Bill Jaker, Frank Sulek, Peter Kanze

Federal Radio Commission Service Bulletins, 1923-28

Article, "When Radio Stations Were Portable" by Donna Halper

Article, "The Eastern Massachusetts Radio Timeline: The First Fifteen Years" - researched by Donna Halper and edited by Garrett Wollman

Carrell vs. Federal Radio Commission – Court of Appeals, Washington, D.C., decided November 4, 1929.

Federal Radio Commission General Order No. 6, April 26, 1927; General Order No. 30, May 10, 1928.

"East St. Louis Radio Station" - St.Louis Journalism Review, October, 1998.

WIBW History – Kansas Historical Society,

http://www.kshs.org/kansapedia/wibw-am/18326

WBBZ History –

wbbz.com/about.htm

Long Island Forum, Volume 27

Chicagoland radio call sign history by MarkTime-

http://www.angelfire.com/zine/forty2/radiohistory.html
---
NOTE: This article appeared in the Spectrum Monitor Magazine, December, 2014.
---
www.theradiohistorian.org

John F. Schneider & Associates, LLC
Copyright, 2014