www.theradiohistorian.org
Copyright 2020 - John F. Schneider & Associates, LLC
---
(Click on photos to enlarge)
---
---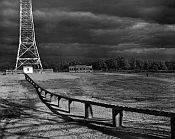 A back view of the property, showing tower #1 and the coaxial line that extended to tower #2, out of view to the right.
---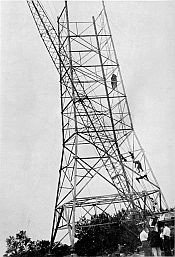 Construction of one of the WEAF towers at Port Washington. (ATE Journal, August, 1940)
---
Here is a view of the modernized RCA 50B transmitter at WEAF. The UV-862 power amplifier tubes are in the left-hand cabinet; the center cabinet is the power control panel; and the right-hand cabinet contains the high voltage mercury vapor rectifier tubes.
---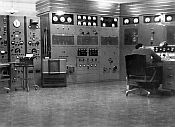 Here is another view of the WEAF transmitter in Port Washington. The power amplifier cabinet is at the far right; the 5,000-watt exciter and intermediate amplifier is in the center; and the cabinets at the far left contain the audio control equipment.
---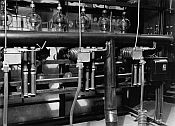 This is a rear view of the high voltage rectifier cabinet, showing the six mercury vapor rectifier tubes that supplied 20,000 volts at 10 amperes to the final tubes.

---
Being a technology pioneer is often a disadvantage. The first practitioners of a technology learn both the benefits and shortcomings of the technology, and then those that follow have the benefits of those lessons and then overcome them with improved solutions.
Such was the case for NBC's flagship radio broadcasting station, WEAF in New York City. In 1927, WEAF was one of the first radio stations in the country to operate at 50,000 watts – a power level which today is still the maximum allowed power for broadcasting on the standard AM broadcast band in the U.S. As a condition of allowing such a previously-prohibited high power, the Federal Radio Commission required WEAF to be located far enough outside of the city to avoid overloading listeners' receivers. So it was that the location chosen for this high-power facility was Bellmore, Long Island – 25 miles east of Manhattan. The WEAF installation in Bellmore was cutting-edge technology in its day, but it quickly became obsolete as improved transmitter and antenna technologies were perfected. The original transmitter was only used for four years before it was replaced by the more modern RCA 50B in 1931. (See WEAF Bellmore Tour). But an improved transmitter still did not overcome the limitations of the location.
By the mid 1930's, consumer receivers had improved greatly. The old TRF (Tuned Radio Frequency) designs had for the most part been superseded by modern superheterodyne technology, which offered sharper tuning and better rejection of unwanted signals. Additionally, AGC (Automatic Gain Control) circuits kept strong signals from overloading the receivers. Now, even with its 50-kW transmitter, WEAF was at a disadvantage in New York City, where smaller stations broadcasting from sites much closer to the city delivered clearer signals to their listeners. Being the station that delivered the nation's most popular radio programs to its biggest city, it was imperative that WEAF move closer to New York.
NBC's decision to change sites was temporarily delayed when Cincinnati's WLW was given permission to broadcast experimentally with 500,000 watts. At first, NBC was optimistic that WEAF would be given the same permission, and then Bellmore would have been a good location for such an installation. But towards the end of the decade it became clear that the FCC was not going to permit super-power broadcasting in this country. (WLW's experimental authority was rescinded in 1939.) Finally, approval was given to find a new site for WEAF, and Raymond Guy, chief engineer of NBC's radio facilities section, was given the task of finding a new location. It would not be easy.
Using a 100-watt transmitter, a mobile test vehicle roamed the region to locate the areas having the best propagation towards the metro area. This narrowed the choices down to two areas – Milford, New Jersey, and Kings Point, Long Island. Only one suitable property in Milford could be identified, and it was owned by a farmer who was reluctant to sell. After much haggling, he agreed to give NBC an option on the property, but for just three months because he needed to get his spring crops planted. This was not a viable amount of time in which to obtain an FCC construction permit, and so the search team concentrated instead on Long Island. In any event, Kings Point would be a better choice in terms of radio propagation, offering a clear salt-water path across the East River entrance to New York City. A 200-acre site was identified and its owner agreed upon a ten-year lease with an option to renew. But Kings Point was an upscale suburban area with strict building codes prohibiting industrial use. Lengthy negotiations with the city managers ultimately failed to obtain a waiver of the building code obstacle.
A few miles farther to the east, the search team discovered a 102-acre parcel in Port Washington. It belonged to a defunct sand company and had been auctioned for back taxes, but there were no takers. NBC quickly obtained a six-month option on the property for $1,200 an acre. It was a superior site, also offering a salt-water path to New York. Although farther away than Kings Point, it was ten miles closer to Manhattan than Bellmore.
The next obstacle was to obtain clearance from the CAA (Civil Aviation Authority – the predecessor to today's FAA). A private seaplane airport located a mile away from the property objected to the project, afraid that WEAF would interfere with airport communications. This turned into a controversial topic in the community, with arguments both for and against appearing in the local newspapers. In the end, the interference issue was overcome, but the proposed half-wave tower height of 740 feet was denied. To compensate, NBC chose to instead use two 320-foot towers, creating a slight directional signal to the west, but this would require more land. This was solved with a complicated trade deal with an adjoining property owner to acquire an additional ten acres. It was also discovered that the public road that needed to be extended to reach the site was blocked by a one-foot-wide section of property that someone had acquired for the express purpose of preventing extension of the roadway. Fortuitously, they were able to make a deal with that owner to acquire the one-foot parcel.
Finally, with clear title to the property and approval from both the CAA and the FCC, construction at Port Washington began in 1939. NBC's final cost to acquire the 50 acres was $80,000, possibly highest price ever paid for a broadcast site to that time.
A one-story brick structure with basement was constructed on the property. Two quarter-wave self-supporting towers were erected, located 475 and 875 feet from the building. Rigid copper coaxial lines stretched above ground to the two towers. Two redundant 10 kHz AT&T broadcast lines were installed to bring program audio to Port Washington. routed via separate paths to increase redundancy.
It would be necessary to keep Bellmore on the air while Port Washington was constructed, so another transmitter was needed. As it happened, NBC's station WENR in Chicago had recently combined its operations with WLS. The two 50 kW stations shared time on the same frequency, and so one transmitter was now serving both stations from a single antenna. Because the previous WENR site at Downers Grove, Illinois, was being decommissioned, the station's RCA 50B transmitter was available to WEAF. The rectifier and power amplifier of the WENR transmitter were brought to Port Washington, where they were joined with the 5-kW driver from Bellmore -- the old site's auxiliary transmitter's driver was substituted to keep WEAF on the air. All of this equipment to be used in Port Washington was extensively rebuilt and modernized – the motor-generator filament and bias power supplies were replaced with rectified AC supplies, and several older and obsolete tube types were changed to more modern and efficient ones. When the work was done, the reassembled transmitter was state-of-the-art for 1940, with audio frequency response measuring flat from 30 Hz to 16 kHz. Noise was -65 dB, and distortion less than 2% at 100% modulation.
Finally, the Port Washington site was turned on November 8, 1940, and the Bellmore site was shut down and retired. The improvements in WEAF's signal were impressive – the signal strength in Manhattan increased from 10 to 75 mV/m. The station was now as strong in the city as any signal on the dial, and it could be heard clearly at night over half the country – a proper signal befitting the network's most important station.
WEAF operated from the Port Washington site for the next 23 years. The historic call sign was retired in 1946, when WEAF became WNBC. (It was changed again to WRCA in 1954, and then back to WNBC in 1960. In 1988, Emmis Broadcasting Corporation acquired the station and it became WFAN.)
But there was still one more move in its future. In 1963, NBC and CBS joined forces to construct a shared transmitter site on High Island, off shore from the Bronx. This site was even closer to New York City and allowed for a taller tower and saltwater ground system. The co-owned project was a success, and both WCBS and WFAN still broadcast from the island's single 528-foot tower today.
This article originally appeared in the December, 2020, issue of THE SPECTRUM MONITOR

---
REFERENCES:
Broadcasting

Magazine, March 15, 1939

New York Times

, March 26, 1939

Radio & Television

Magazine, January, 1941

ATE Journal

, August, 1940

Electronics

Magazine.

September, 1940

NBC Transmitter

,

October, 1940

RCA Review

, April, 1941 -

"Engineering Factors in Relocating WEAF"

NAB Engineering Conference Proceedings

, April 7, 1964 – "WNBC-WCBS Shared Antenna System"


---
---