www.theradiohistorian.org
Copyright 2018 -
John F. Schneider & Associates, LLC
[Return to Home Page]

(Click on photos to enlarge)
---
---
---
---
---
---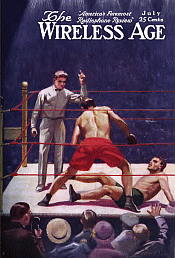 A 1923 cover illustration from "Wireless Age" magazine portrays Major White broadcasting a fight from ringside.
---
---
---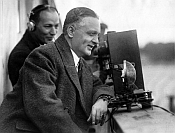 Major White and Ted Husing broadcast a Navy-Princeton football game for WJZ, 1926.
---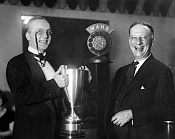 New York Governor Al Smith presents Major White with a silver cup as the "best looking and most popular announcer in America" at the 1925 Radio World's Fair. The presentation was broadcast over New York's WAHG (now WCBS).
---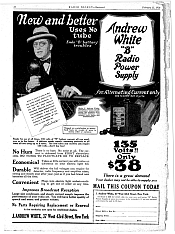 An advertisement for the "Andrew White B Battery Eliminator".
---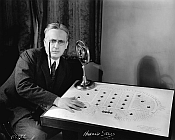 Major J. Andrew White displays a map showing the placement of microphones that will be used for CBS's broadcast of the Republican National Convention from Kansas City in 1928.
---
He was nervous as he gripped the microphone and began speaking. He had never broadcast a sporting event before. In fact, almost no one on the entire planet had done it. He was about to create an entirely new profession.

Early Years

James Andrew White was born in 1889 and raised in New York City. He spent his youth as a beach lifeguard and amateur boxer. After he completed his schooling, he built race cars and tried his hand at selling mining equipment, and then became a New York correspondent for the "London Times". In 1911, Guglielmo Marconi read one of his Times articles about the conviction of three stock swindlers and hired him in 1911 to work for British Marconi in New York.

In 1914, American Marconi formed the National Amateur Wireless Association (NAWA), and began publishing the magazine "Wireless Age". White was named editor of the magazine, and began his long association with David Sarnoff, who was the magazine's contract manager. During World War I, in addition to editing the monthly magazine, White was appointed as Chief Signal Officer of the American Guard, at which time he authored several books for the Army Signal Corps. This work earned him the title of Major, which he proudly appended to his name for much of his career.

In 1919, the Radio Corporation of America was formed to assume the operations of American Marconi, and so White became an RCA employee. Sarnoff was named the company's commercial manager.

The Dempsey-Carpentier Fight

The big sporting event of 1921 was the boxing match between Jack Dempsey and Jacques Carpentier, to be held at Boyle's Thirty Acres arena in Hoboken, New Jersey, on July 2. At that time in America, boxing was almost as popular as baseball, and this "Battle of the Century" was going to be the "World Series" of boxing. Madison Square Garden promoter Julius Hopp thought it would be a publicity coup to broadcast the match by wireless – something that had never been done before. Broadcasting was not yet established in 1921, and only a handful of Americans owned radio sets. Hopp first called Hiram Percy Maxim at the ARRL, but Maxim immediately dismissed the idea as impractical. Next he contacted Major White at the NAWA – the other amateur wireless organization – who was immediately interested in the project. He brought the idea to Sarnoff, who had been trying unsuccessfully since 1916 to promote his vision of transmitting to "radio music boxes" at RCA. Sarnoff loved the idea, and authorized $1,500 for the project. He also offered to join White at ringside for the broadcast.

The project came together quickly. A license was issued for a new station - WJY, RCA's first broadcasting station - which would operate for just one day. With the permission of Franklin Roosevelt, Secretary of the Navy, he was able to borrow a 3.5 kW Navy transmitter that was being built at the G.E. factory, and had it shipped by barge from Schenectady to Hoboken. The equipment was installed 2-1/2 miles away from the stadium at the Lackawanna railroad station, where an antenna was strung from an existing radio tower to the building's clock tower. WJY would broadcast on the longwave frequency of 1600 meters (187 kHz), and the Navy promised to keep the frequency clear of interference during the broadcast. Signal tests showed the station had about a 200 mile coverage radius.

Meanwhile, an army of amateur radio operators, headed by the prominent amateur and RCA engineer J. Owen Smith (2ZL), installed radio receivers and Magnavox loudspeakers in theatres and assembly halls across the Northeast. Tickets were sold to hear the broadcast, with the proceeds benefiting the American Committee for Devastated France.

A major obstacle presented itself when AT&T refused to let RCA connect their telephone line to a transmitter. (AT&T and RCA were already adversaries in their battle for dominance of the radio field.) To work around the problem, White hired a high speed telegrapher to send the text of his reports over a Western Union line to the transmitter, where they were to be typed out and read over the air by Owen Smith. Listeners would never hear White's voice directly.

As the station was being assembled, White contemplated how he would describe a boxing match over radio. A former amateur boxer, he rehearsed by shadow boxing in front of a mirror while describing his actions.

It was hot on July 2, and White sat for four hours in the hot sun in his white starched shirt, describing the fight into the microphone, with Sarnoff at his side. The main event took place after several preliminary bouts, and Dempsey knocked out Carpentier in the fourth round. The battery on the phone line failed at the end of the broadcast, and a transmitter tube failed midway through, and Smith burned his hands replacing the hot tube. Nonetheless, the entire program managed to reach an estimated audience of 350,000 – easily the largest radio audience to that time.

WDY

The WJY broadcast generated tremendous publicity for RCA, and made Major J. Andrew White an overnight celebrity. The success of the broadcast finally convinced RCA executives of the importance of radio broadcasting, and they immediately filed an application for the company's first broadcast license. The license for 2XR was issued to RCA on September 19, 1921. White would become the station manager.

While 2XR was being built, White set up a demonstrator station at the New York Electrical Show in October of 1921. RCA supplied a 250 watt transmitter, and White broadcast daily on a frequency of "approximately" 200 meters using the call sign 2BZL. The station was housed in a large room that supported an audience of up to 1,600 persons, and from there White broadcast both live and recorded music daily to the New York City area. 2BZL also broadcast the plays of the World Series game as they were phoned in from the Polo Grounds.

Meanwhile, the construction of 2XR was progressing at a General Electric factory in Roselle Park, NJ. The WJY transmitter was reinstalled there, inside a hexagonal studio lined with draperies. 2XR went on the air December 14, 1921, and a few days later the call sign was changed to WDY. J. Andrew White was the station and program manager, and J. Owen Smith was his chief operator and announcer. Engineers R.H. Ranger and Ernest V. Amy were the only other members of WDY staff. WDY broadcast Monday, Wednesday and Friday evenings from 8:00 to 10:00 PM on 360 meters (833 kHz). Westinghouse's new radio station, WJZ in Newark, occupied the frequency on alternate nights.

White immediately found it difficult to attract talent for his broadcasts, and he never knew from one night to the next what he was going to put on the air. Despite his well-established contacts with the performers of New York's Great White Way, he had trouble getting them to travel the sixteen miles to Roselle Park – an industrial area with limited passenger train service. His big event was the Friday night "Radio Party", and for it he would entice performers to make the trip with a promise of dinner and wine, and sometimes also free publicity in "Wireless Age" magazine. One of the vaudeville performers who made the trip was the future radio star Eddie Cantor, who made his first broadcast over WDY.

It shortly became clear that WDY's location was causing more problems than just the access of talent. The WDY antenna passed over the railroad tracks alongside the factory building, and any time a train passed under the antenna, the station would drift off frequency, and the carbon soot that spewed from the locomotives coated the antenna insulators, causing them to leak radio energy from the antenna. At the same time, the Westinghouse station, WJZ, was performing much more reliably and had better coverage. In June, 1921, Westinghouse had joined the "Radio Trust" of patent holders that included RCA, General Electric, and AT&T, and so the cooperation between RCA and Westinghouse was improving daily. Ultimately, RCA elected to merge WDY's operations with the Westinghouse station, allowing WJZ to be on the air every night. And so WDY broadcast its last program on February 24, 1922, just over two months after its debut.

WJZ

After WDY's short-lived existence, J. Andrew White's continued in his principal job editing "Wireless Age" magazine, but he also started to work for WJZ on a contract basis as a sports announcer. On June 26, 1922, White called the Welterweight fight between Benny Leonard and Jack Britton over WJZ. For the first time, he was able to describe a fight directly as he saw it from ringside, without a relay announcer. Radio shops in New York installed loudspeakers on the streets outside of their stores, and thousands of people heard "This is WJZ, the Radio Corporation-Westinghouse broadcasting station in Newark, New Jersey. A blow-by-blow description of the Leonard-Britton championship bout will now be given from the ringside at the New York Velodrome. One moment please, while we make the connection." Then the major's voice boomed out, along with the sounds of the crowd, the calls of the referee, and the footsteps of the boxers. Listeners felt they were "there" for the first time.

On May 12, 1923, White announced the Willard-Johnson heavyweight fight. Soon, expanding out from boxing, he was broadcasting many different kinds of sports events on WJZ. He called the first live World Series game that year, connected to WJZ over Western Union lines from the stadium. For those games, J. Owen Smith was broadcasting's first spotter, moving cards with players' names around on a large cardboard diamond while White described the action.

In 1923, RCA purchased WJZ from Westinghouse and moved it from the Newark factory to Aeolian Hall in midtown Manhattan. WJZ was quickly becoming one of the most important stations in the country, and White's prestige as a sports announcer was rising with it. His skill at describing a sporting event was universally admired, and he was soon being called "The most famous announcer in radio". He was recognized for his impartiality and lack of prejudice. Major White's gift of observation made his word pictures of the scene so vivid that listeners felt they were actually present at the contest. "I play the game myself, emotionally", he said. "I am 'in' every play and I let myself go, vocally, with all the intenseness that I would use if I was actually carrying the ball." One of his favorite, and much admired, stunts was to pick out a small incident that told a story, tragic or humorous, and typified the emotions that swayed the crowd. "White paints word pictures that other minds could feast upon. So accurate are his descriptions that anyone who has ever attended a game at the Polo Grounds can visualize the plays perfectly," said one admiring radio columnist. "Those who listen to J. Andrew White cannot help but admire his painstaking attention to the details, side lights and human interest stuff that permits every listener to be one of the excited fans in the grandstand."

The Major's voice was soon being heard weekly over WJZ. Other boxing matches followed: The Dempsey-Firpo fight in September, 1923; the Goldstein-Lynch match in March, 1924; and the Firpo-Wills contest in September, 1924. White also called a number of college football games. His broadcast work was now occupying so much time that he quit his position as the editor of "Wireless Age" magazine at the end of 1923.

On September 1, 1924, Major White announced the feature race from Belmont Park - the first ever broadcast of a horse race. "J. Andrew White, who has described every type of sporting event which the radio has so far carried to its distant fans, will be at the microphone in the judge's stand. Direct wires, especially installed for this event, will carry his voice to the radiocasting studio, where it will be 'put on the air.'" In 1925, White became the first to announce a crew race, the Child's Cup Regatta on the Harlem River. Stationed on a power boat following the oarsmen, his reports were sent to the WJZ studio via shortwave for rebroadcast.

Ted Husing

One of White's career accomplishments was mentoring a young announcer who became one of radio's best-known sportscasters. Ted Husing was a young staff announcer at WJZ, assigned to introduce Major White's broadcasts of baseball re-creations. For these away games, to avoid the high cost of phone lines, White would broadcast while comfortably seated in the studio, re-creating the game's action from tickertape accounts sent to him from the stadium. One day, Husing told White that he wanted to become a sports broadcaster too, but White advised him to first go out and play some football to learn the sport. Husing took his advice, spending a season playing amateur football, and then in the fall of 1925 he told White he was ready to broadcast. White pulled some strings with the WJZ management and had Husing assigned to work with him for the broadcast of a Penn-Cornell game.

When he arrived at the stadium for the broadcast, Husing found himself alone in the broadcast booth as it approached broadcast time – White had not yet arrived! Swallowing hard, he took the microphone alone and proceeded to work his way nervously through the pre-game show. Just as play was about to begin, Major White waltzed into the booth and took over the microphone. "I'll never forget his broadcast", Husing wrote. "He just marched in cold, picked up the microphone, and the river of words began flowing. A masterpiece was winging through the air. He used strong words, simple words, colorful words, and he didn't have to grope for them. I made a mental note to put in some cram sessions with a dictionary."

With that broadcast, Ted Husing had found his life's calling. White and Husing teamed up for several more broadcasts, including the Princeton-Navy game in 1926. In the process, they built a friendship that would last both their lifetimes.

Political Convention Broadcasts

In June of 1924, RCA sent Major White to Cleveland to broadcast the Republican National Convention over WJZ and WGY in Schenectady. WEAF, the competition AT&T station, was also sending its star announcer, Graham McNamee, to cover the event, and AT&T refused to rent phone lines to WJZ for the broadcast. RCA was forced to carry the event over noisy, inferior Western Union lines. But White's broadcast was relayed from WGY to G.E.'s shortwave station KFKX in Hastings, Nebraska, where it was re-transmitted to the West Coast and heard over KGO in Oakland, California, making this White's first coast-to-coast broadcast. At the convention, Calvin Coolidge received an easy nomination after just three days of debates and speeches.

Later that same month, White also broadcast the Democratic convention from Chicago, teamed up with WJZ announcer Norman Brokenshire. Unlike the orderly Republican event, the Democratic convention lasted for 16 unruly days, and it took 103 ballots before the Democrats could choose their eventual nominee, John Davis. Coolidge easily trounced Davis in the general election that fall, and White and Brokenshire then broadcast the inauguration on March 4, 1925 for a small network of stations. (Graham McNamee was also there, announcing the event for the much larger WEAF network.)

WJZ - WEAF Merger

By then, the competition between RCA and AT&T – and by proxy, between WJZ and WEAF – was becoming white hot, but it came to a sudden end on July 21, 1926, with the surprise announcement that AT&T was selling its interests in WEAF and its fledgling radio network to RCA. AT&T forever exited the broadcasting field while RCA turned the WEAF network into its new National Broadcasting Company, and AT&T began reaping huge profits by leasing its broadcast lines to the new network.

WEAF's studios were moved over the now-crowded WJZ studios at Aeolian Hall, and the former competitors were suddenly partners. The marriage of the two stations was not an easy one, and many careers were jostled as the staffs were merged. Among other changes, J. Andrew White and Graham McNamee were now to become sportscasting partners.

The first test of this relationship took place on September 3, 1926, when WEAF and WJZ broadcast the giant Dempsey-Tunney fight over a temporary hookup of 30 stations. (This was just weeks before the establishment of the NBC network on November 15.) J. Andrew White called the action, and easily outclassed McNamee, who seemed unnerved by his new co-star role. "Radio Broadcast" magazine wrote that Major White's broadcast was "as perfect a piece of work as we have ever heard over the radio, and we hope every aspiring sports reporter in the country heard it to take a lesson from it. In contrast to Major White's fine job was the miserable exhibition made by McNamee, whose duty it was to handle the mike during the one minute rests between rounds. Never has this star announcer been more off his form. He hemmed and hawed and blustered about, and got utterly nothing said."

Nonetheless, in the shakeup that followed, White found that his role with the new NBC network was diminished, and he left the company in the fall of 1926. He had been developing other business interests, including a part interest in a radio retail store, and for a short while he promoted the sale of the Andrew White Battery Eliminator, an AC power supply for battery sets. On Broadway, he played the role of a radio announcer in the production "Black Boy", which gave 37 performances in October and November of that year. And he was always in demand as a banquet speaker and master of ceremonies for events around New York. In May of 1927, his voice was heard again on the NBC Blue Network as the announcer for the Sharkey-Maloney fight.

Hail Columbia!

The next big step in J. Andrew White's career came in early 1927, when he was approached by New York Music Promotors Arthur Judson and George Coats. They wanted him to invest in their new radio company, the United Independent Broadcasters, Inc. They had just signed a contract with the Columbia Phonograph Company to underwrite a new national radio network, which would be called the Columbia Phonograph Broadcasting System. Because Judson and Coats were not broadcasters, they needed someone with celebrity status and ample radio experience to head the company and attract investors. Intrigued by the possibilities, White bought 200 shares of the new company and became its president.

The Columbia network debuted on September 18, 1927, broadcasting from temporary studios at WOR in New York. Major White was the master of ceremonies for the opening three- hour broadcast, carried by sixteen stations in the Northeast. The Opening Day programming featured a performance of "The King's Henchman", performed by a cast of performers from the Metropolitan Opera. Other programs featured classical selections by members of the New York Philharmonic, and the Philadelphia Symphony Orchestra, among others. Thereafter, Columbia broadcast for ten hours a week – 2 hours each on Monday, Wednesday, Friday and Sunday evenings, and Sunday afternoons.

But the new network was instantly in financial peril. Expenses were huge and advertisers were scarce, and after just a few weeks of operations, Columbia Phonograph pulled out and the paychecks for the network's twelve employees stopped. Desperate for new backing, White, Judson and Coats convinced Isaac and Leon Levy of their Philadelphia station, WCAU, to buy controlling interest for $135,000. Sam Paley, owner of the Congress Cigar Company, was also brought in as an investor. The name of the network was shortened to the Columbia Broadcasting System – CBS.

Just two weeks after the network's debut, the biggest sporting event of the year was to be the "long count" rematch of Tunney and Dempsey in Chicago, where Dempsey would try to regain his heavyweight title. , White was naturally eager to broadcast the bout, but NBC had an exclusive contract for Graham McNamee to transmit the fight over a 58-station NBC hookup. White tried an end run around NBC, attempting to order an AT&T line into the Soldiers' Field stadium "in the interest of widening our network's scope of service", but his attempt was quashed when the event manager, Tex Rickard, refused to allow the installation of the line. Andrew White, America's premier boxing sportscaster, sat helplessly on the sidelines as McNamee broadcast to an audience of 50 million people.

On Christmas Day, 1927, White hired Ted Husing, the man he had formerly mentored at WJZ. Husing began as White's assistant, but he quickly worked his way into the role of sportscaster. Husing would be CBS's primary sports announcer for the next 20 years, edging out Graham McNamee to become the country's premiere radio sports broadcaster.

One of White's most important tasks at CBS was the signing of new affiliate stations. More affiliates meant the network was more attractive to advertisers, who were desperately needed as the network proved to be a giant sinkhole for money. Sponsors were hard to come by, and if a CBS salesman was able to convince a prospect of the value of radio, he would usually sign a contract – with NBC! Losses were running about $20,000 a week, and by August of 1928, the network had lost $1 million. But as the investors were on the verge of shutting down the network, they received a telegram from White announcing he had just closed a $750,000 contract with Vitaphone, the talking picture subsidiary of Warner Brothers. The agreement would bring the voices of Vitaphone's actors to the network, which would be great publicity for that company's films.

William Paley

The deal saved the network from financial collapse long enough for the owners to entice 27-year-old William Paley to invest in the failing company. Paley was intrigued by the offer - he had managed his father's Philadelphia cigar company advertisements on WCAU and the Columbia network and had been impressed with radio's impact on cigar sales. He quickly agreed to buy 50.3% of the company for $503,000. And so, barely a year after the struggling network's first broadcast, Paley moved to New York and took charge of its operations.

Paley quickly turned Columbia's business. He made crucial changes to the affiliate agreements, and signed dozens of new stations and important major advertisers, tripling the revenue in just a few months. He changed the programming emphasis from high-brow music to more mainstream tastes, signing the Paul Whiteman Band and a young singer named Bing Crosby. Vaudeville entertainers and comedians began appearing on the Columbia Network, including Jack Benny, Burns and Allen, and Fred Allen. In need of more cash, he sold 49% of the company to Paramount Pictures (later buying it back in 1932). He bought New York's WABC (now WCBS) and moved the studios out of WOR.

He also completely reorganized the structure of the company, naming himself president and demoting Andrew White to managing director. The task of affiliate relations was taken over by Paley and others, and White's responsibilities were limited to assembling programs for broadcast. Although he continued to broadcast sports and handle programming, continued as the network's public spokesman, and worked his connections on Broadway to sign top-flight talent to the network, he no longer played an important hand in the day-to-day operations of CBS.

In William Paley's self-serving autobiography, As It Happened, he minimized White's contributions to the beginnings of CBS: "The nominal head of the network when I arrived was Major J. Andrew White, a good broadcaster, who was known around town for his natty dress, which included a pince-nez with a ribbon and a white carnation in his lapel. He had style. Major White understood radio at the microphone, but the business of radio or radio operations were not his talent or even within his knowledge. He took no offense about standing aside when I took over. He was happy to have someone take over the day-by-day running of the network while he put programs together."

By 1930, White was becoming disillusioned with his lot at CBS. Corporate network broadcasting was a far cry from the rowdy, Wild West days of early radio, and he felt confined. He was used to being an innovator, and missed the celebrity spotlight that he attracted by being in the forefront. Now he was just one more executive on an ever-growing staff. Finally, on April 23, Paley sent out a memo notifying the Columbia staff that "it is with exceeding regret that I have to report that Major White has asked to be relieved of his official connections." White was retiring, ostensibly to relax and play polo, and he sold all of his CBS stock to William Paley on May 1. Years later, Major White's son, Blair, said, "Paley thought CBS history started with him and didn't want any part of my dad. Shortly after he left, my dad sold all his CBS stock. Otherwise, I would have a butler."

After CBS

At 40 years old, Andrew White still had many productive years ahead of him, and he enjoyed name recognition and a long list of contacts in the radio, sports and entertainment worlds. His next two years were spent trying to form a new national network, the American Broadcasting System, which would distribute its programs via transcription discs instead of using expensive AT&T phone lines. He proposed to distribute Western Electric transcriptions to a nationwide network by mail and express. But he never found the financial backing to get his network off the ground, later admitting he was "15 years ahead of his time".

After attempting several other unsuccessful business ventures, J. Andrew White moved to California in 1940. During World War II, White again became a Signal Corps Major, "working 25 hours a day" writing textbooks and devising training schedules. After the war, he earned a doctorate of psychology degree and became a full-time psychologist while teaching a few courses at the University of Southern California.

In 1951, Major White returned briefly to radio– this time as a disc jockey at KNX in Hollywood. Now calling himself simply Andy White, he co-hosted the program "Encore Night" with Jim Hawthorne. The program was heard on Tuesday nights at midnight, where White played pre-1930 recordings and reminisced about earlier times. He attracted a large, older fan base that enjoyed his stories and admired his knowledge of early popular music. But the program was short-lived, and White returned to relative anonymity.

Also during these years, White reestablished his friendship with his protégé, Ted Husing, who was now also living in Southern California. In 1956, Husing had undergone an operation for a brain tumor which caused him to lose his sight, ending his broadcasting career. On June 7, 1957, White appeared briefly on a Ralph Edwards "This is Your Life" television show honoring Ted Husing. The two men remained friends for their remaining years. Husing died in Pasadena in 1962 at 60 years of age, and White died in Los Angeles four years later at the age of 76.

Retrospective

Major J. Andrew White was a true pioneer - a seminal figure in early radio broadcasting, and the industry's first real celebrity. He is mostly forgotten today, undoubtedly because he departed from radio just as it was maturing as a mass medium and business. It's often said that pioneers and entrepreneurs do not always make good businessmen once a field becomes well-established, and that appears to have been the case with Major White. However, there is no denying his impact on the first decade of American broadcasting, or his status as a role model for the next generation of broadcasters.


BIBLIOGRAPHY:

This is a much expanded version of an article that appeared in "Radio World" Magazine on April 25, 2018.
---
www.theradiohistorian.org

John F. Schneider & Associates, LLC
Copyright, 2018