www.theradiohistorian.org
Copyright 2016 - John F. Schneider & Associates, LLC
(Click on photos to enlarge)
---
In 1940, very little usable data was available about FM propagation and coverage. A number of FM stations in the Eastern U.S. had been studied, but W9XAO had the only signal West of the, and so it was studied to understand how FM would perform in the flat Midwest terrain. The WTMJ engineers seen in this photo are Daniel Gellerup and Phil Laeser. They were tasked with taking both mobile and fixed measurements on eight different radial routes – to the South, West and North - driving away from the transmitter along each radial until there was no longer a usable signal. The mobile measurements were recorded on a "chartograph" mechanical chart recorder. Also, as seen in this photo, periodic fixed measurements were taken, orienting the receive antenna for the best signal. A test report was prepared and presented to the F.C.C. in time for a hearing on FM broadcasting held in March, 1940.
---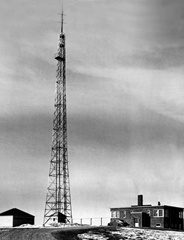 The Journal Company built this transmitter site for W55M in 1942. The 200 ft. tower was situated on Richfield Hill, 21 miles NW of Milwaukee with an elevation of 450 ft. The building included living quarters for the engineer/operators.
---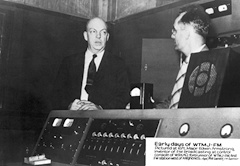 Major Edwin Armstrong, the inventor of wideband FM, is seen visiting W9XAO during its opening celebration in 1940.
---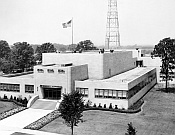 WTMJ and W55M "Radio City"
studio building in Milwaukee, 1942.

---
---


WTMJ, the Milwaukee Journal radio station, was always an innovator in new broadcasting technologies. In 1931, its experimental station W9XD was one of the first to transmit a low-definition electromechanical television signal. In 1934, its W9XAZ was one of the first Apex (high fidelity ultra-shortwave AM) stations, operating with 500 watts on 26.4 MHz. On February 23, 1940, it was superseded by W9XAO, the first experimental wideband FM station west of the Alleghenies. This pioneering FM station broadcast on 42.6 MHz in the old FM band, using a 3,000 watt REL transmitter.

In April, 1941, W9XAO was relicensed as a commercial FM station on 45.5 MHz, with the call sign W55M. In 1942, its power was increased to 50,000 watts ERP with a 10 kW transmitter broadcasting from a new plant near Richfield, Northwest of Milwaukee. When the FCC abandoned the unpopular alphanumeric FM call signs in 1943, W55M became WMFM.

From the beginning, WMFM featured separate programming from WTMJ-AM, offering more than 35 hours each week of so-called "better music", with many programs being broadcast before a live audience. Local musicians participated in live talent shows, and a few live operas were even broadcast. Transcription music programs were broadcast in the afternoons, giving listeners an alternative to the continuous stream of soap operas that were the typical fare on AM radio. An aggressive campaign of local and national advertising showed that the Journal was indeed serious about FM.

However, in 1945 the FCC began hearings on a restructuring of the post-war radio bands. Faced with demands for new spectrum for television, concern over the possibility of increased skywave interference in the old FM band with the coming sunspot maximum, and receiving intense lobbying by RCA and others, the FCC proposed to relocate all FM broadcasting from 44-50 MHz to a new band at 88-108 MHz. The 53 existing FM broadcasters were uniform in their opposition to the change, which would obsolete all of the existing transmission plants and a reported half million receivers already in the hands of consumers. Nonetheless, the FCC voted in favor of the move, which was a major setback to the nascent FM broadcast community.

In Milwaukee, the Journal Company, FM now took a back seat as the company refocused its attention towards the future of television (WTMJ-TV went on the air in 1947). WMFM was renamed WTMJ-FM, indicating its discontinuation of separate FM programming in favor of 100% simulcasting of its AM sister station. But that didn't mean a curtailment of the company's investment in FM. After WTMJ-FM moved to 92.3 (later 93.3) in the current FM band, it raised power in 1948 to a whopping 349 kW ERP with the installation of a giant 50 kW RCA transmitter, the most powerful built to date, and a taller tower with an eight element square-loop antenna. (A number of super-power FM stations were allowed in the early days of FM, but only a handful of these grandfathered stations remain today.)

After the FCC relocated of the FM band, there was a short-lived boom in applications for FM licenses, mostly due to the pent-up post-war demand for new radio stations. At the start of 1947, there were more than 142 FM stations on the air. But the relocation of the FM band had proven to be a setback that FM would not recover from for more than fifteen years. Post-war sales for new FM receivers were painfully slow, as set manufacturers were reluctant to be burned again, and because consumers were now focused on the emergence of television. In 1950, the tenth year of FM broadcasting in the USA, the industry hit its rock bottom, with more than 235 stations forced off the air by economic losses.

Over at super-power WTMJ-FM, the high costs of electrical power, replacement tubes, and the staffing of the transmitter sites (in the days before transmitter remote control) finally took their toll.

On April 2, 1950, WTMJ-FM joined the growing list of dark FM stations, along with a sister FM station in Wausau. In a letter to the FCC, Walter J. Damm, the Journal's vice president and an early FM industry promoter, wrote:

"Much to our regret, FM has not lived up to the bright promise of ten years ago. The radio listeners in Wisconsin have not seen fit to invest in a sufficient number of FM receivers to make the continued operation of WTMJ-FM and WSAU-FM a worthwhile undertaking. The Journal Co. does not sell time on WTMJ-FM or WSAU-FM. Since it derives no financial revenue from either station, the only justification for underwriting the cost of continued FM service would be a body of listeners far larger than the very limited one which our research has shown to be in existence at the present time, and which shows no signs of material growth."


Fortunately, some business decisions are reversible, and as FM's fortunes finally improved in 1959, the Journal Co. decided to get back into the FM business. In that year, WTMJ-FM returned to the air with a new license on 94.1 MHz. Today, that station is known as WKTI 94.5 and is operated by Scripps Media, who acquired WTMJ and WKTI when it merged with Journal Communications in 2015.
---
NOTE: This article originally appeared in Radio World Magazine, September, 2016.
REFERENCES:
Broadcasting Magazine: 4/1/40, 1/1/41, 2/16/42, 3/9/42, 10/25/43, 8/21/44, 2/26/45, 8/6/45, 12/3/45, 4/3/50, 8/11/58, 5/18/59
Milwaukee Journal: 12/28/41, 9/19/48
---


Here is an article about WTMJ-FM, from the February, 1949, issue of "RCA Broadcast News":
---