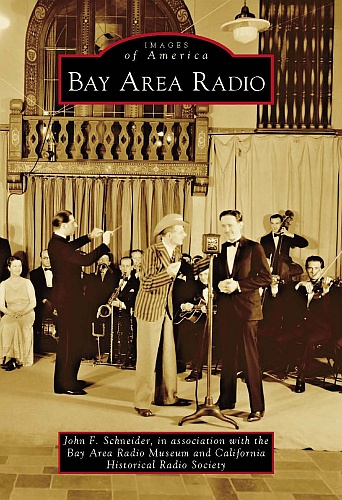 "Bay Area Radio" by John F. Schneider
in association with the California Historical Radio Society
-
A pictorial history of radio broadcasting in the
San Francisco Bay Area.
One of the "Images of America" series of books from
Arcadia Publishing Co.
The San Francisco Bay Area was a key national radio broadcasting center during the first three decades of commercial radio broadcasting. In 1909, it was home to the very beginnings of the art and science of broadcasting when Doctor Charles Herrold began sending out weekly voice and music programs from his radio school in San Jose.
Dozens of other radio pioneers soon followed. In 1926, big broadcasting came to San Francisco when the newly-formed National Broadcasting Company (NBC) established its West Coast headquarters on Sutter Street. Other national and regional networks soon set up their own broadcast production centers, and for the next twenty years thousands of actors, musicians, announcers and engineers were creating major programs that were heard on the West Coast as well as nationwide.
In World War II, San Francisco became the key collection center for Pacific war news, and bulletins received in San Francisco were quickly relayed to an anxious nation. Conversely, powerful shortwave stations broadcast war news and propaganda back to the Pacific and entertained our troops overseas.
In this book, radio historian John Schneider and the California Historical Radio Society have assembled a collection of rare photographs which document the artistry and technology of this important aspect of San Francisco's history.
$21.95 Post Paid
SEATTLE RADIO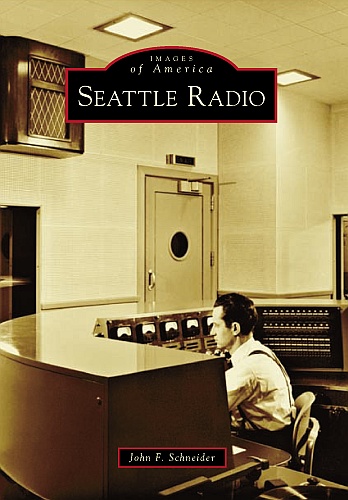 "Seattle Radio" by John F. Schneider -
A pictorial history of radio broadcasting in the
Seattle / Tacoma / Everett area.
One of the "Images of America" series of books from
Arcadia Publishing Co.
Radio broadcasting began in Seattle in 1920 and drew national attention over the next 90 years for its collection of flamboyant and sometimes quirky broadcast empresarios. Here are just a few of the facts that will be revealed when you read Seattle Radio:
Who was the fire-and-brimstone Seattle preacher that built the country's first church radio station?

What big time bootlegger's wife read bedtime stories to children on her own radio station?

What Seattle-based radio network suddenly went bankrupt and sent two successive bank managers to prison for embezzling bank funds to run the stations?

What two wealthy Seattle business people turned their small radio stations into West Coast broadcast empires?

What underpaid novice Seattle radio announcer later became one of the nation's top TV newscasters?

What Democratic campaign manager capitalized on his political connections to build the Northwest's most powerful radio station?

What two self-made Seattle radio men started with practically nothing and each built their own major broadcast station groups?

What 1950's disc jockey capitalized on acrobatic publicity stunts to draw an audience?
Radio historian John Schneider worked with radio broadcasters in Seattle for more than two decades. In this book, he shares some of the stories and images he found along the way.
$21.95 Post Paid

CALENDARS
2015-2019



$16.95 ea. Post Paid

Watch for the Radio Historian's 2021
Radio History Calendar -
Available in November, 2020